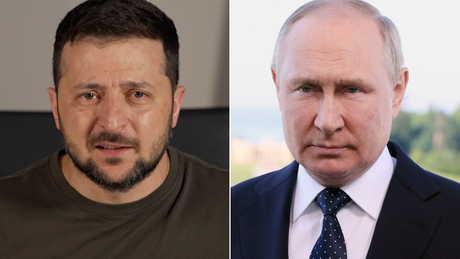 Russian President Vladimir Putin will on Tuesday make just his second international trip since his invasion of Ukraine in February — and his first outside the boundaries of the former Soviet Union during this period.
Putin is visiting Iran, where he will meet with Turkish President Recep Erdogan and Iranian leader Ebrahim Raisi.
It comes amid Ukrainian claims that more than 20 million tons of grain remain stuck in Ukraine due to the Russian blockade of various Black Sea ports. Putin and Erdogan are set to discuss the issue of exporting grain from Ukrainian ports, the Kremlin said ahead of the trip, according to state news agencies RIA Novosti and TASS.
"The work is very active. You know that on July 13, the first four-party meeting on grain was held in Istanbul with the participation of representatives of Russia, Ukraine, Turkey and the UN. We are ready to continue work on this track, this work will be continued," aide to the Russian President, Yury Ushakov, said at a briefing as quoted by RIA.
Meanwhile, Putin's relationship with Iran has alerted Western officials as he prepares to ramp up ground offensives in eastern Ukraine following his troops' capture of the Luhansk region.
Recently declassified US intelligence indicates that Iran is expected to supply Russia with "hundreds" of drones — including weapons-capable drones — for use in the war in Ukraine, with Iran preparing to begin training Russian forces on how to operate them as early as late July, according to White House officials.
"Russia turning to Iran for the help speaks volumes about the degree to which both nations, for their actions into different areas of the world, have been increasingly isolated by the international community," the National Security Council coordinator for strategic communications John Kirby told CNN last week.
Putin is set to hold bi-lateral talks with both leaders later on Tuesday.