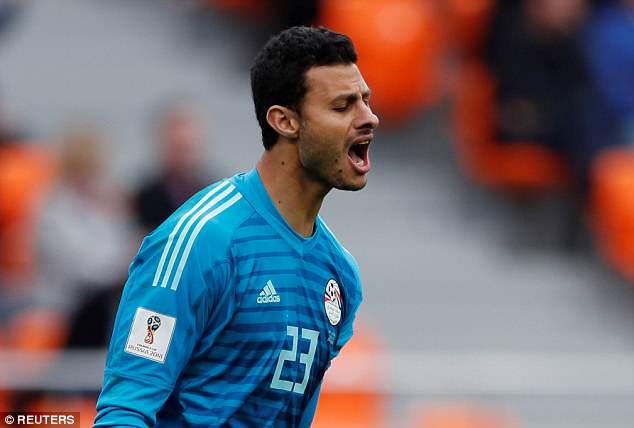 It seems Mohamed al-Shenawy's heroic performance in the World Cup has put him on the road to become the most valuable player in Egypt.
Shenawy's home team Al-Ahly received an official offer from Pyramids Football Club, requesting the Egyptian giant to loan them Shenawy for two seasons in exchange for $4 million, in addition to an $800 thousand-dollar-salary for the player, according to Pyramids FC official twitter account.
The offer has been increased double from an original $2 million offer to sell Egypt's number one goalkeeper for good, which Al-Ahly refused.
Mohamed al-Shenawy became a hit following a heroic performance in the World Cup. The rising Egyptian goalkeeper, who took Essam al-Hadari's place as the national team number goalkeeper, displayed a stellar performance against Uruguay, becoming the first Egyptian in history to win Man of the Match  in the World Cup. He then played another good match against Russia, where Egypt lost 3-1.
He is currently Egypt's number one goalkeeper. The footballer was born in Kafr al-Sheikh and joined football giant Ahly in the 2016-2017 season. He also played for Ahly's young team from 2002-2009, but then moved to Talaa'e Al-Geesh before returning to Al-Ahli. In the 2015-216 season, Shennawi was labelled Egypt's fifth best goalkeeper as he made 45 saves falling 21 saves short from Egypt's number one Essam Al-Hadari (66 saves).
Ahram FC is the Egypt's newest football club. The club is starting strong as they it is headed by coaching legend Ahly's Hossam al-Badri. As for the team, they will  be coached by a Brazilian coach. Ahram already announced their team will include: a Syrian footballer, Egyptian duo Abdallah Bakri from Smouha Club and Mohamed Fathi from Ismaili as well as Brazillian footballer Carlos Eduardo, who the club signed on Thursday.