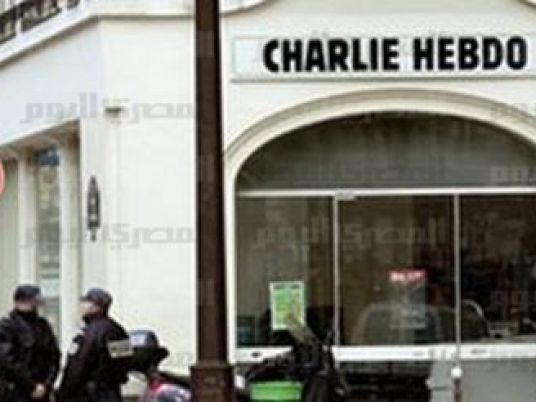 Qatar warned Friday that publishing cartoons of Prophet Mohammed would "fuel hatred and anger", as a leading Muslim body called for peaceful protests against French weekly Charlie Hebdo.
Qatar "condemned the reprinting by French satirical magazine Charlie Hebdo and other European press of pictures offensive to Prophet Mohammed," the foreign ministry said in a statement.
"Freedom of speech does not mean insulting others, hurting their feelings, and mocking their religious beliefs and idols," said the statement published by the official QNA news agency.
"These disgraceful actions are in the interest of nobody and will only fuel hatred and anger," it warned, describing them as a "violation of human values of peaceful coexistence, tolerance, justice, and respect among people."
The new issue of the French magazine, published on Wednesday, features a cartoon of the Prophet Mohammed on its cover holding a "Je Suis Charlie" sign under the headline "All is forgiven".
It was the first edition of Charlie Hebdo to be published since Islamist gunmen killed 12 people in an attack on its Paris offices on January 7.
Qatar, accused of backing radical Islamists, urged Western media "to respect others and their beliefs and to steer away from intolerance and extremism, and to commit to the values upon which Western civilisation was built."
The magazine, which normally has a print run of around 60,000, said on Wednesday that it would print five million copies this week because of unprecedented demand. The magazine sold out across France within minutes of publication.
The Qatar-based International Union of Muslim Scholars, headed by influential preacher Yusuf al-Qaradawi, criticised the "world's shameful and unexcused silence" on the "insulting of religions".
In a statement released late Thursday it warned of "heavy consequences of continuing to insult Islam, the Koran, and the prophet".
"No sane person could accept inciting sedition under the name of freedom of expression," it said.
The association urged "peaceful demonstrations" against offending Prophet Mohammed and called for "Muslim governments to intervene and demand an international law by the United Nations that criminalises offending religions and prophets."
The Qatari government and Qaradawi's group — which is linked to the Muslim Brotherhood — were both quick to condemn the deadly attack on Charlie Hebdo.
Saudi Arabia's top religious body, the Council of Senior Ulema, also criticised the publication of Mohammed cartoons that it said "have nothing to do with the freedom of creativity or thought".
Its secretary general Fahd al-Majid warned that publishing such images would only "serve extremists who are in search of excuses for killing and terrorism".
"The world's duty is to support mutual respect and coexistence, and this will not happen by insulting religious sanctities and symbols," Majid said in a statement given by the official SPA news agency.