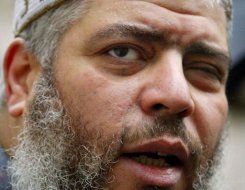 Radical imam Abu Hamza al-Masri was sentenced on Friday to life in prison, eight months after he was convicted of federal terrorism charges in New York.
The one-eyed, handless Abu Hamza was found guilty of providing a satellite phone and advice to Yemeni militants who kidnapped Western tourists in 1998.
He was also convicted of sending two followers to Oregon to establish a militant training camp, and dispatching an associate to Afghanistan to aid al Qaeda and the Taliban against the United States.
Abu Hamza, 56, gained notoriety in London for his incendiary speeches at the Finsbury Park Mosque and his use of a hook in place of his missing right hand.