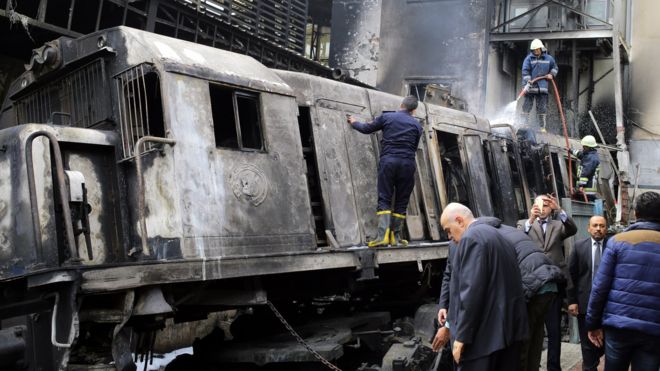 Security forces in Menoufiya arrested the fugitive driver of the train that caused the accident at the Ramses Station on Wednesday, killing and wounding dozens of citizens.
A security source said that the driver, Alaa Salah, was arrested at an apartment owned by one of his relatives in the city of Shebin al-Kom in Menoufiya.
The driver resides in the city of Tanta, Gharbiya, but his hometown is in Menoufiya where he was arrested, said the source.
Magdy al-Sabbagh, deputy head of the Railway Authority, said that the driver of the train was inside it before the collision occurred.
Sabbagh added during a telephone call with host Ahmed Moussa on Sada al-Balad channel Wednesday evening that the train was moving at a high speed when it touched another nearby train. The driver jumped off the train for an altercation with the driver of the other train, leaving the first train moving at its high speed until it hit the pavement at the end of the line.
The driver had to turn off the engine before he jumped off the train, Sabbagh said, pointing out that the train's speed was about 60 km/hour when it entered the station and hit the pavement.
He added that the normal speed of a train entering a station should not exceed 8 km/hour, describing the driver's mistake as "gross".
Over 20 people were killed and 40 others injured when a fire broke out in Cairo's Ramses Station after a train collided with the station's pavement at the end of the line, causing an explosion.
Edited translation from Al-Masry Al-Youm