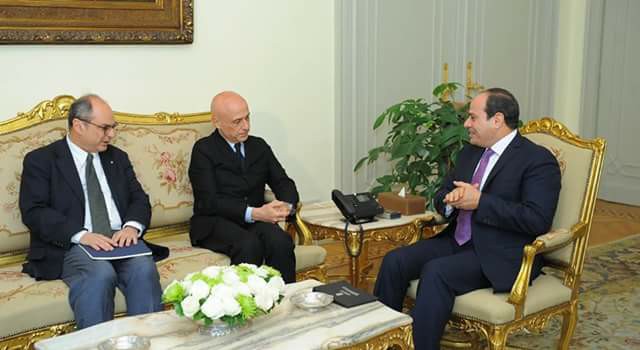 In Sunday's meeting between Egyptian President Abdel Fattah al-Sisi and Italy's Interior Minister Marco Minniti, Sisi emphasized that there is a real willingness to unearth the concluding results of investigations into the murder and torture of Italian PhD student, Giulio Regeni, through high-level judicial cooperation between Egyptian and Italian prosecutors.
Sisi said that cooperation had so far achieved positive results, and an upcoming meeting will see the two countries' prosecutors discuss developments.
Regeni, the 28-year-old Italian University of Cambridge PhD student, was conducting field research in Cairo, on independent trade unions in Egypt.
He disappeared January 24 2016 in central Cairo, amid a high presence of police in the area, who were anticipating protests.
His body, bearing signs of torture, was discovered on a desert roadside on February 6 2016.
Initially, Egyptian police officials suggested Regeni died in a road accident.
However, an Italian autopsy showed that Regeni's body was covered with cuts, and his bones were broken, indicating that he had been hit with "fists, batons and hammers."
Egyptian authorities have released scant information about their investigations, despite international pressure and outrage from Italians and academics alike.
Egypt has emphatically denied that its police were involved in his abduction, torture, or death.
Further, Egypt has pledged to bring Regeni's killers to justice, holding regular meetings between Egyptian and Italian investigators in Rome.
Italian officials stated that they have received all the requested evidence, including phone records, but as the two-year anniversary of his murder approaches, the case remains unsolved.
Sisi's remarks on Regeni came in a meeting which saw him and Italy's Minniti discuss ways of strengthening the two countries' bilateral relations.
They exchanged views on regional and international issues of mutual concern, according to the Spokesperson of the Egyptian Presidency, Bassam Radi.
Radi added that Sisi stressed the importance of enhancing cooperation between Egypt and Italy on various levels, and achieving a strategic partnership between the two countries.
Minniti spoke of the depth and strength of the relations between the two countries, saying that the coming period will witness greater joint cooperation, particularly in combating irregular migration and in counter-terrorism.
He also spoke of intensifying mutual efforts to enhance cooperation in economic relations by pumping increased Italian investments into Egypt.
Edited Translation from Al-Masry Al-Youm