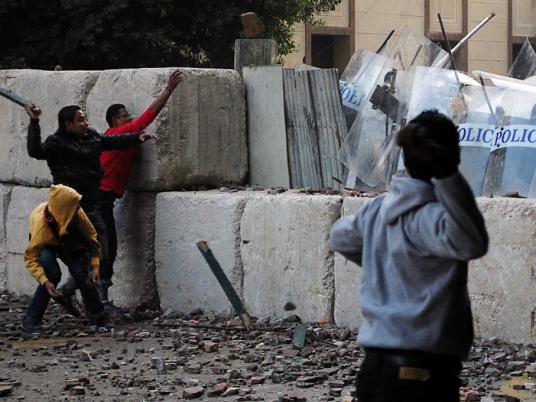 International condemnation of the violent events in Egypt have increased as clashes between supporters of deposed President Mohamed Morsy and security forces had erupted in Cairo and a number of governorates leaving many deaths and causing alarming instability.
The violent events on what the Muslim Brotherhood called "Friday of Rage" left at least 60 dead and hundreds more wounded.
According to security sources, 1118 pro-Morsy protesters were arrested for inciting violence and committing acts of vandalism.
Death-toll in different cities
In Cairo's Ramsis Square at least 60 were killed and hundreds injured. A doctor at Ain Shams University Hospital told Egypt Independent that they, alone, have received more than 100 severely injured protesters, mostly due to live ammunition.
In Alexandria clashes between Morsy supporters and security forces left 21 dead and 101 injured. Security forces in Alexandria ordered the arrest of 130 demonstrators who were involved in Friday's clashes.
In Sinai, six were killed while 17 were injured including one policeman, as supporters of Morsy opened fire on police station and hurled petrol bombs at the Civil Defence headquarters in Arish, prompting policemen to retaliate by returning fire according to Aswat Masriya and Ahram Online.
Eight were killed in clashes in the city of Fayoum south of Cairo, after supporters of ousted President Mohamed Morsy protested across Egypt on Friday, a hospital official said. Seventy people were wounded in the clashes between Morsy supporters and security forces, said Gamal Shuaib, manager of the Fayoum public hospital.
Eleven were killed Ismailiya, eight in Damietta and four in Mansoura, according to hospital sources.
Police casualties
According to Reuters, 24 policemen had been killed on Friday alone, while the government had announcend that over 60 were killed on Wednesday during the dispersal of Rabaa al-Adaweya and al-Nahda sit-ins. According to security sources, this is the highest death-toll of security personnel the police have witnessed in a matter of only three days.
Vandalism
More than 32 churches have been set ablaze or looted since Wednesday's violence erupted. According to Reuters, 15 police stations have been attacked, some burnt and others looted and vandalized. Also, on Friday night, Arab Contractors' building in Ramsis Square was set on fire and fire fighters spent hours to contain the flames which destroyed around 4 stories of the buiilding.
Internal reactions
NSF spokesperson
After the resignation of Mohamed ElBaradie, former vice president of Adly Mansour, the official spokesman for the National Salvation Front, Khaled Dawoud, resigned on Friday because of the group's support for security forces' violence against supporters of deposed president, Mohamed Morsy.
The front which was a leading supporter and driving force behind the 30 June protests which led to the toppling of Morsy's regime, is refusing to condemn the massacres of the security force, according to Khaled Dawoud.
Presidency
The Egyptian presidency announced that it is holding an international press conference on Saturday at 3 p.m. Cairo Time to explain the situation.
Journalists and news agencies, accredited at the presidency or not, would be allowed to cover the conference.
The presidency and the cabinet have said in statements that the country is "fighting a war on terror" urging Egyptians to assist them in imposing the law and eliminating malicious individuals.
On a similar token, the Army spokesperson had asked Egyptians to send him via email any videos they might have captured of the violence on Wednesday, so that the proper action would be taken againt the perpetrators of violence as well as armed individuals.
International Reactions
Member countries of the European Union (EU) are considering presenting a common political stance as soon as possible on the crisis in Egypt.

EU diplomats in Brussels on Friday said an emergency meeting of foreign ministers would probably take place early next week. The Political and Security Affairs Committee of the European Union is meeting in Brussels on Monday.

A spokesperson for EU High Representative for Foreign Affairs and Security Policy Catherine Ashton said such a procedure in this regard is possible.

According to the current EU agenda, it is scheduled to hold a meeting with foreign ministers on 6 and 7 September in Vilnius, the capital of Lithuania.

Several EU foreign ministers have asked to meet before then to consult on the latest developments in Egypt.
EU leaders have earlier condemned the violence and saying that they would "re-evaluate" its trading and political ties with Egypt.
According to AFP, French Foreign Minister Laurent Fabius said on French television that no options would be off the table at the foreign ministers' meeting, including a possible suspension of aid. EU foreign policy chief Catherine Ashton called the deaths in Egypt "shocking."
The German government also announced the suspension of 25 million euros in aid to Egypt and that funding for up-coming development projects would be rejected for the time being according to Development Minister Dirk Niebel.
Many European countries including Germany, France, Switzerland, Poland, Italy, Finland, Sweden, Norway and Austria "formally discouraged" their citizens and asking them to refrain from traveling to Egypt.
Saudi Arabia
It has become one of the main supporters of the post-Morsy regime along with the United Arab Emirates and Bahrain, showing willingness to back the regime politically and financially.
The top religious cleric rand Mufti Sheik Abdul-Aziz Al-Shek, Cabinet minister, called on Egyptians to be alert to plots against their country as it would be "a great loss for the Muslim nation if Egypt, the big Islamic country, is destroyed." He also called on Egyptians to curb violence and not to attack security forces who are the country's shield against terrorism.
"They are the ones who protect the country," the top religious cleric said.
Turkey
Joint military exercise between the Egypt and Turkey countries was called off as the relation between the two countries worsened.
Earlier, Turkish Prime Minister Tayyip Erdogan called on for the U.N. Security Council to convene quickly and act after what he described as a massacre in Egypt.
"Those who remain silent in the face of this massacre are as guilty as those who carried it out. The U.N. Security Council must convene quickly," Erdogan told a news conference in Ankara.
Meanwhile, Turkish officials kept up their criticism of the military government's crackdown, with President Abdullah Gul saying, according to AP, that "all that happened in Egypt is a shame for Islam and the Arab world." Turkey and Egypt recalled their ambassadors for consultations late Thursday as their relationship worsened.
Egyptian TV has also announced that it would halt the screening of any Turkish TV series- which have gained huge popularity in Egypt the past 3 years.
Tunisia
Scores of protesters, estimated at 1500 according to AP, stormed Tunis streets in support of Morsy and the Brotherhood and their allies. The protests shouted slogans condemning the actions of the Egyptian military.
On the other hand, Tunisian Foreign Ministry summoned the Egyptian ambassador and expressed Tunisia's concern about what the past few days have led to.
Austria
A small demonstration of 500 protesters in favor of Morsy in Vienna's downtown on St. Stephens Square chanted the name of Morsy and expressed concern about the future of democracy and legitimacy in Egypt.
Indonesia
According to AP, thousands of protesters took to the streets after Friday prayers, calling for the bloodshed and massacres in Egypt to end.
Taliban
The Taliban condemned the violence and called for the return of Egypt's of Morsy.
They also summoned on international organizations to take action to curb the violence of the security forces and "not be satisfied with only condemning this barbaric incident."
The Muslim Bortherhood called for a week of daily marches nationwide to show defiance to the coup and to condemn the use of excessive violence against the protesters which has left more than 700 dead and a few thousands injured since Wednesday.