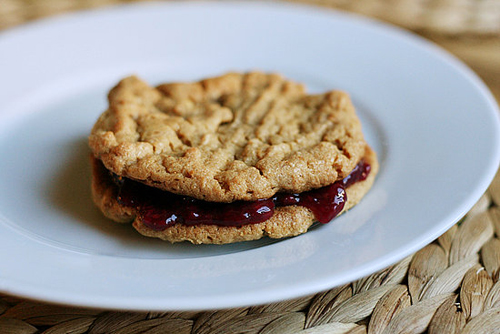 This easy jam cookie recipe can be customized to your taste. Cookie dough is one of the easiest recipes out there, requiring almost no time or culinary skills. Make it taste extra special by playing around with your favorite ingredients and toppings.
Ingredients:
3 cups flour
2 eggs
1 teaspoon vanilla
1 cup powdered sugar
5 spoonfuls butter
Jam
Nuts or chopped chocolate
Steps:
1. Stir butter and sugar well with a wooden spoon (or an electric mixer for better results) in a large bowl until the ingredients are fluffy and creamy.
2. Add eggs and vanilla to the mixture, then mix again until combined.
3. Add flour and beat well. Press the mixture together with your hands at the end if needed.
4. Cut the dough into shapes with a cookie cutter.
5. Grease your cookie pan with butter so the cookies do not stick to the pan.
6. Place the cookies inside the oven on medium heat for 25 minutes, until they turn light golden brown.
7. Once done, set them aside to cool.
8. Spread your favorite jam on top of each cookie, then cover the first cookie with another one so the jam is sandwiched.
9. Place your favorite nuts, including pistachios and almonds, on top, or sprinkle grated chocolate instead, if you are a chocolate lover.
This piece was originally published in Egypt Independent's weekly print edition.