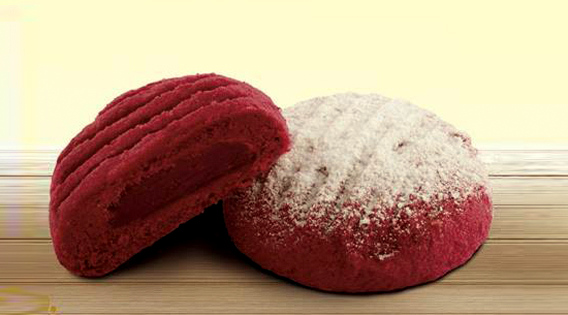 Cairo's confectioneries and bakeries are still pushing traditional boundaries this Eid by spicing up their crumbly kahk cookies with the flavors of the moment, like Red Velvet and Nutella. But some believe the new trend is starting to look overdone.
Every household has its own unique kahk recipe that they treasure, but the basics remain the same. Kahk is a type of buttery sugar cookie with a sandy texture and mildly aromatic flavor.  The cookies themselves are barely sweet, making way for more sweetness in the form of fillings and powdered sugar coating.
The most popular traditional filling by far is the Agameya. It is a cooked mixture of ghee, honey, sesame seeds and optional nuts; most often walnuts.
Kahk can also be stuffed with Turkish delight (malban), sticky sweet date paste (agwa) or plain nuts, like walnuts and pistachios.
The traditional cookie doesn't leave as much room for bakeries in Cairo to be as creative and experimental as is the case with the Ramadan desserts like cheesecake Konafas, and red velvet basbousas. But that doesn't mean local vendors aren't trying to be creative with them.
"We started the Red velvet and Nutella kahk line last year to offer selections that suit all tastes. These editions have their own clienteles, and their sales do not take away from the classic fillings," a salesperson from the renowned Bisco Misr told Egypt Independent, adding that they target the young customers willing to sway away from traditional tastes for a new experience.
Bisco Misr sells a box of Red Velvet kahk for LE100.
Most Cairenes, however, are holding tight to their classic grandma cookie taste, with some occasionally willing to grab a bite of something a little different, and others completely opposing the trendy twists.
"It's ridiculous. I did not try them and will not try them. Messing with traditions simply means it's not a tradition anymore," said Naira Sherif, 24 years old.
Marwa Samy, moreover, thinks red velvet does not have a distinct taste.
"A lot of the red velvet's appeal is visual, but it doesn't taste like anything. The craze about it is only because of a trend that is neither retro nor innovative any longer, because red velvet is in almost everything now, even ice cream," she said.
Samar Yasser shared the same sentiments.
"Classics are always better. This is just cookie, but not the kahk I grew up knowing. The essence of what it traditional will always hold a unique taste to me," Yasser, 36, year old said.
While renowned stores Dukes, Nutopia, and Tortina started their "new kahk" editions last year, they can still be found in their nation-wide branches. A Nutella or Red velvet box will set you back from LE90 to LE120.