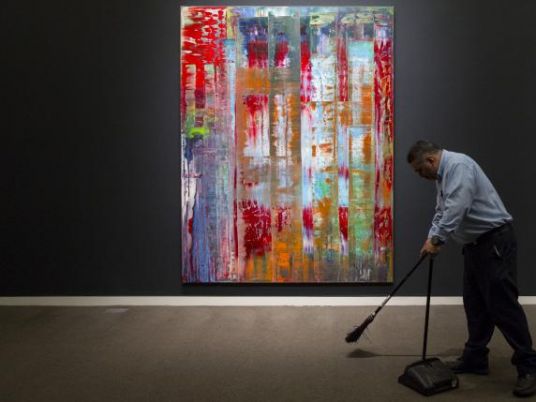 With prices for top-tier works of art at an all-time high, records for paintings and sculpture appear certain to fall at upcoming spring auctions in New York by Christie's and Sotheby's.
Christie's scored a one-two punch this season, landing a Pablo Picasso painting and a Alberto Giacometti sculpture, with each expected to sell for US$130 million (85.82 million pounds) or more, before a commission of just over 12 percent is tacked on.
The $140 million estimate for Picasso's "Les femmes d'Alger (Version "O")," a cubist work last auctioned in 1997 when it nearly tripled expectations, is the highest pre-sale price ever accorded an auction offering.
Close behind, Giacometti's 1947, 70-inch (180-cm) bronze, "Man Pointing," is set to sell for $130 million, which would easily eclipse his record for sculpture of $104.3 million held by "L'Homme qui marche I."
Both will be sold at Christie's on May 11, a sale billed as "Looking Forward to the Past," which augments its Impressionist/modern and contemporary auctions. The 35 lots are expected to fetch half a billion dollars.
"The high prices we see are a reflection of both rarity and surging demand," said Jussi Pylkkanen, Christie's global president. "Asian collectors have been increasingly active lately, bringing a new competitive dynamic, especially when it comes to top-quality masterpieces."
Sotheby's top offering is Mark Rothko's untitled yellow and blue 1954 oil, which is expected to sell for as much as $60 million. It is also featuring six Monets expected to total more than $78 million, led by "Nymphéas," estimated at $30 million to $45 million.
In all, some $2 billion worth of art will be offered to well-heeled, increasingly global collectors competing for an ever-shrinking supply of so-called trophy works, ranging from van Goghs and Picassos to Rothkos and Warhols.
"The supply of strong examples remaining in private hands is shrinking fast," said Simon Shaw, worldwide co-head of Impressionist art at Sotheby's, speaking in particular of the auction house's Monet offerings.
"The result is fierce competition that leads to the results we have witnessed recently," he added.
Other highlights include van Gogh's "L'Allée des Alyscamps," (in excess of $40 million) and Roy Lichtenstein's 1962 pop art "The Ring (Engagement)," which Sotheby's expects will sell for about $50 million.
The auctions kick off at Sotheby's on Tuesday with the Impressionist and modern sale, expected to take in between $270 million and $365 million. Four sales spanning collecting categories will be held the following week.