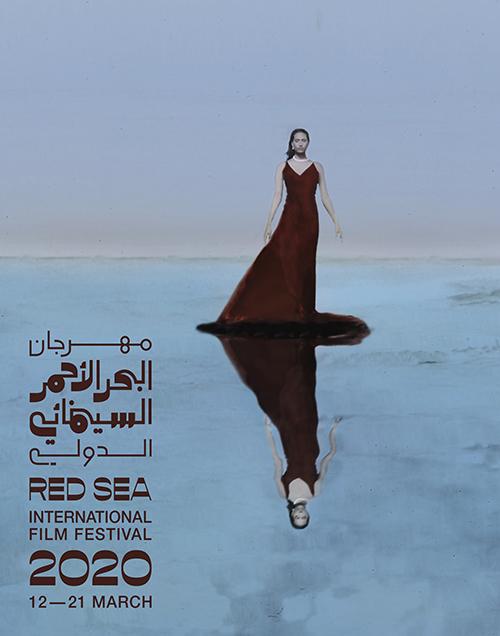 The Red Sea International Film Festival unveiled on Monday a poster for the very first edition of the new festival, scheduled to run between March 12 and 21 in Saudi Arabia's Jeddah, featuring an image of Saudi ballerina Samira al-Khamis emerging from the sea.
Syrian photographer Osama Esid utilized a classic photography technique called the wet-collodion process in creating the poster, bringing the black and white photography to life and painting it using vibrant colors.
According to the festival's website, the poster is intended to represent the wave of social and other changes sweeping the region – especially in Saudi Arabia – which they say has now created a space for young filmmakers in the Kingdom, according to the festival's official website.
The poster also utilizes a reflection technique to convey the festival's message of the importance of exchanging art and culture, as well as the way in which art offers multiple perspectives and new ways of viewing the world.
The festival, which aims to focus on contemporary Saudi life through the lens of Saudi women, has also unveiled details of a film-making project combining five Saudi female film directors to produce several short movies, all set to be screened during the first edition's opening.
The directors are Hind al-Fahhad, Jawaher al-Amri, Noor al-Amir, Sarah Mesfer and Fatma al-Banawy.
"Cinema plays (an) important role in supporting diversity and bonding within communities, the Festival Director Mahmoud al-Sabagh said.
Sabagh clarified that the festival supports creative voices and talented filmmakers, giving them opportunities to tell their stories.
Having embraced the promising Saudi artists, the festival's administration also said that it more broadly values new Arab works of art and the world's newest films, as well as so-called "immersive art" and other experimental projects.
Saudi Arabia announced in 2017 that it would reopen movie theaters in the conservative country for the first time in 35 years. The move was part of efforts from Crown Prince Mohammed Bin Salman to push through a number of major social reforms, such as lifting the ban on women driving in 2018 and bringing concerts and other forms of entertainment back to the Kingdom, according to The Associated Press.
In September 2019, Saudi Arabia announced that it would begin offering tourist visas for the first time. Boosting tourism is a central point of Salman's Vision 2030 reform program, which he hopes will prepare the Kingdom's economy for the post-oil era, according to AP.
Edited translation from Saudi Arabia