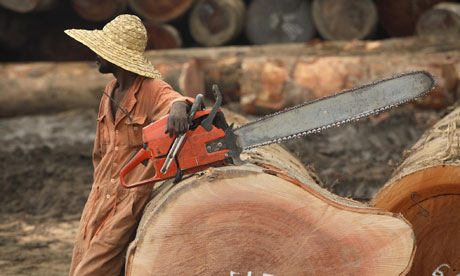 Liberia's forestry department has given a quarter of the nation's land to logging firms over the past two years in a flurry of shady deals now under investigation by the government, advocacy group Global Witness said on Tuesday.
President Ellen Johnson Sirleaf, fending off accusations of graft and nepotism within her government, has suspended the head of the West African state's Forestry Development Authority and launched a probe into the recent timber deals amid concerns of widespread fraud and mismanagement.
Global Witness said its research revealed that the scale of the deals marked a serious threat to the war-torn and impoverished country's vast rainforests, as well as to the hundreds of thousands of people who depend on them.
"A quarter of Liberia's total landmass has been granted to logging companies in just two years, following an explosion in the use of secretive and often illegal logging permits," the group said in a statement.
"Unless this crisis is tackled immediately, the country's forests could suffer widespread devastation, leaving the people who depend upon them stranded and undoing the country's fragile progress since the resource-fueled conflicts of 1989 to 2003."
Global Witness conducted the investigation with two other advocacy groups, the Save My Future Foundation and Sustainable Development Institute
Corruption is seen as a big obstacle to development in Liberia, which remains one of the world's least developed countries nearly a decade after the end of a 14-year civil war.
The government has been struggling to clarify land ownership issues across its vast forested zones, traditionally divided along ethnic lines.
Global Witness said about 26,000 square kilometers of land had been granted to timber companies through at least 66 so-called Private Use Permits — lightly regulated deals between timber companies and private land owners.
It said many of the deals made with individuals said to own the land were backed by land deeds held in the collective name of people of a district or clan who had little knowledge of the accords and would reap little benefit from the timber exported.
Officials suspended
The advocacy group added that some of the deals appeared to have been backed by forged documents. "When presented with a letter written in his name submitting his people's deed to the government, a Paramount Chief (clan chief) from the Dugbeh River Private Use Permit area in Sinoe County told us that the letter was forged," Global Witness said.
Land deeds in Liberia require a presidential signature. In another deal, Global Witness said, the deed bore the signature of former President Edwin Barclay, but was dated six years before he came to power.
Liberia's presidency, which was aware of the Global Witness investigation before its release, said on Friday that it had suspended the director of the forestry department, Moses Wogbeh, and launched an independent probe into the deals. It added it would bar illegally-logged timber from being exported.
Johnson Sirleaf, awarded the Nobel Peace Prize last year for her work for women's rights, has been facing growing criticism for failing to root out government-level corruption as the country begins potentially lucrative iron ore exports and explores for oil offshore.
Last month she suspended her son from his position as Deputy Central Bank Governor as well as 45 other government officials for failing to declare their assets to anti-corruption authorities, a move observers said was intended to show she is serious about fighting graft.
The president has been criticized for nominating three sons to high level posts in her administration —one at the central bank, one at the national oil company, and one at the head of the country's national security agency.
Logging has been a controversial issue in Liberia since the civil war, when rebels used proceeds from timber to purchase weapons, triggering a UN ban. The ban was lifted after Liberia's foreign partners, particularly the United States and the World Bank, helped it reform its forestry laws.