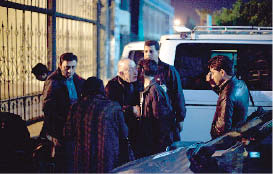 The National Council for Women has petitioned state authorities to ban the marriage of Egyptian men to Syrian refugees.
In a statement released Friday, the council said it had sent letters to Interior Minister Mohamed Ibrahim and Justice Minister Ahmed Mekki to enforce the ban, and that the World Federation of Egyptian Women in Europe had sent a letter to President Mohamed Morsy with the same request. The council claimed the phenomenon of marrying Syrian refugee women was becoming widespread in 6 October City, 10 Ramadan City and New Cairo, as well as in the governorates of Alexandria, Daqahlia, Gharbia and Qena.
There have been over 12,000 such marriages in the past year alone, the council alleged.
The statement warned that these marriages were a form of human trafficking and constituted a violation of international human rights norms.
Since the beginning of the Syrian uprising, women from the war-torn nation have fled to Egypt, marrying citizens here to secure their residency. Some men justified their actions by saying the marriage was an altruistic gesture saving the women from the burden of refugee status. The dowry for such marriages usually does not exceed LE500, forcing the women to be completely dependent on their Egyptian husbands financially and legally, the council alleged.
Edited translation from Al-Masry Al-Youm