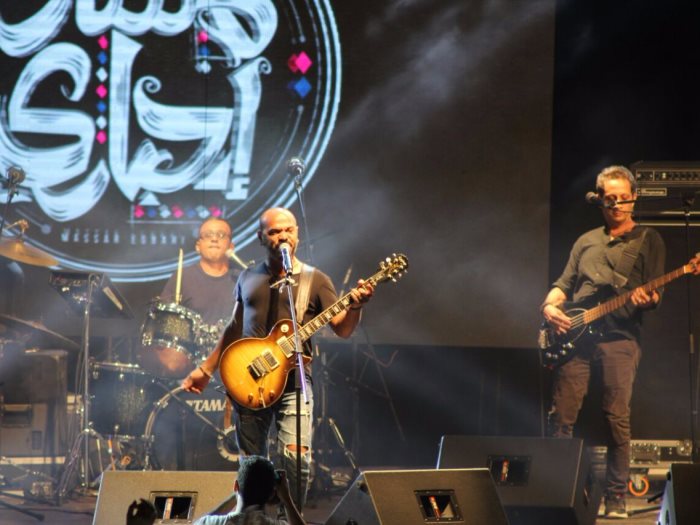 Egyptian rock band "Massar Egbari" celebrated the 15th anniversary of its formation on Wednesday by performing for an online audience during the opening of the WE Festival.
The band performed a mix of classic and new songs, starting with the lead song off its second album "Toaa we Teoam" (You Fall and Then Get Up), followed by the three songs "Matkhafeesh men Bokra" (Don't Fear Tomorrow), "Zayak Ana" (I'm Like You), and "Ana Haweet" (I Loved).
Founded in 2005 in Alexandria, the band's members include Ahmed Hafez, Ayman Masoud, Hany al-Dakkak, Mohamed Siam, Tamer Atallah, Doaa Abdel Wahab, Taymour and Omar Abu Doma.
The band also performed songs taken from their album "El Album," including "Sayad" (Hunter), "Fakra" (She Remembers), and "Matlob Habib" (Lover Wanted). The band ended with a performance of their latest song "Had Tayeh" (Someone Lost).
The band recently released a song titled "Raghm El Masafa" (Despite the Distance) with singer Asma Aboul Yazid, the video for which was filmed remotely by separately recording scenes featuring members of the band and Aboul Yazid.
The band announced in March that it plans to give concerts online on a weekly or monthly basis, depending on fans' response.
Massar Egbari started the initiative in cooperation with the company Platform to encourage various musicians and bands in Egypt and the Arab world to give online concerts so that audiences could enjoy live music until the global crisis subsides, according to an earlier statement by Masoud.
Massar Egbari was set to play in the 2020 South by Southwest music festival in Austin, Texas in March, but the event was canceled due to fears of the spread of coronavirus.
Edited Translation from Al-Masry Al-Youm