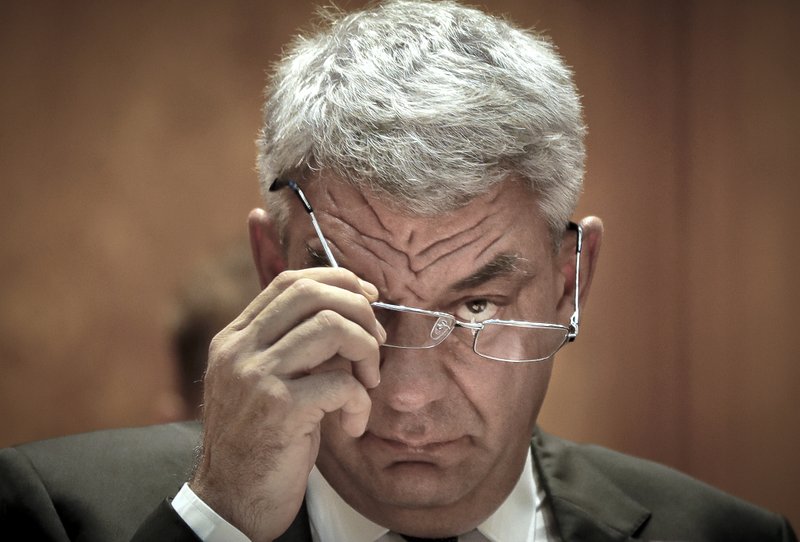 Romania's prime minister resigned Monday after his party withdrew its support for him amid a power struggle with the party chairman.
The ruling left-wing Social Democratic Party revoked its backing of Prime Minister Mihai Tudose after a meeting lasting more than five hours.
Tudose, 50, said he was quitting after a little more than six months in office "with my head high" and would clear out his office immediately.
Social Democratic Party officials said Development Minister Paul Stanescu would serve as interim prime minister.
Tudose is the second prime minister ousted by the Social Democrats since they won Romania's December 2016 general election.
Party chairman Liviu Dragnea said 60 Social Democratic lawmakers voted to withdraw their support for the prime minister, four supported Tudose and four abstained from the vote.
Dragnea is ineligible to serve as prime minister due to a conviction for vote-rigging. Separately, prosecutors froze Dragnea's assets in November as part of a probe of alleged misuse of European Union funds. He denies wrongdoing.
The conflict between Dragnea and the prime minister surfaced publicly last week when Tudose accused Interior Minister Carmen Dan of lying and called on her to resign. Dan, a close ally of Dragnea's, refused.
Tudose's resignation comes as Japanese Prime Minister Shinzo Abe is scheduled to visit Romania on Tuesday. Abe is on a six-country European tour that already has taken him to Estonia, Latvia, Lithuania and Bulgaria.
The Social Democrats plan to meet Tuesday to decide on a new candidate for prime minister, who would need to be formally proposed by President Klaus Iohannis and then voted on by Parliament.
The Social Democrats ousted their previous prime minister, Sorin Grindeanu, in June with a vote of no-confidence.