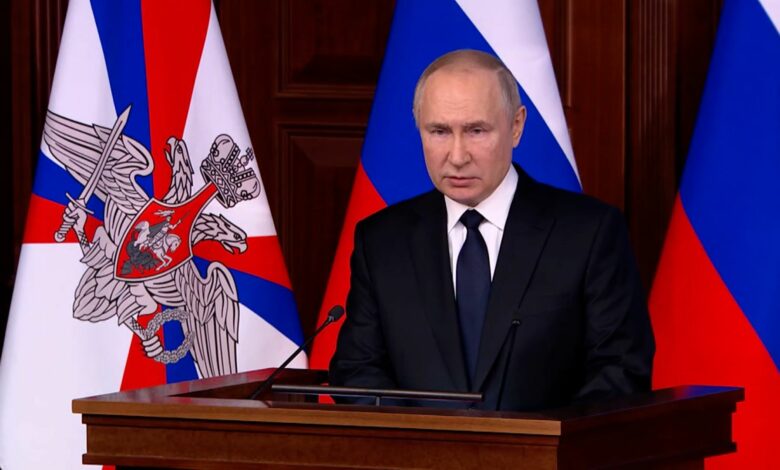 London
CNN
 —  Russia will cut
crude oil production
by half a million barrels per day starting in March, a little over two months after the world's major economies imposed a price cap on the country's seaborne exports.
"We will not sell oil to those who directly or indirectly adhere to the principles of the price ceiling," Russian Deputy Prime Minister Alexander Novak said in a statement. "In relation to this, Russia will voluntarily reduce production by 500,000 barrels per day in March. This will contribute to the restoration of market relations."
The cut is equivalent to about 5% of Russian oil output.
Futures prices for Brent crude, the global benchmark, rose 1.7% Friday to $86 a barrel as traders anticipated a tightening in global supply. US oil also gained 1.7% to trade at $79 a barrel.
In June last year, the European Union agreed to phase out all seaborne imports of Russian crude oil within the following six months as part of unprecedented Western sanctions aimed at reducing Moscow's ability to fund its war in Ukraine.
The drop in the supply of Russian oil will mean more competition for barrels from other sources, such as the Middle East, that Europe, the United Kingdom and other Western countries now need.
In a move aimed at further tightening the screws, G7 countries and the European Union agreed in December to cap the price at which Western brokers, insurers and shippers can trade Russia's seaborne oil for markets elsewhere at $60 a barrel. Earlier this month, EU countries also banned imports of Russia's diesel and refined oil imports.
Higher global demand?
Novak warned that the crude oil price cap could lead to "a decrease in investment in the oil sector and, accordingly, an oil shortage."
Neil Crosby, a senior analyst at oil data firm OilX, told CNN that a 500,000 barrel-a-day cut is not the "worst-case scenario" and is still a smaller hit to Russian production than most analysts were expecting last year.
"But it sets a precedent for further cuts ahead if necessary or desired by Russian authorities," Crosby said, adding that Moscow could be anticipating difficulty in finding enough demand for its crude.
Russian Urals crude traded at a discount to Brent crude of $28 a barrel on Friday. Over the past few months, India and China have snapped up cheap oil from Moscow, just as the EU — once Russia's biggest customer for crude — has ended all imports.
"Russia currently has a limited pool of buyers for its crudes and has likely found a ceiling to its export sales in the near term, primarily to China and India," said Alan Gelder, vice president of refining, chemicals and oil markets at Wood Mackenzie.
According to Reuters, Russia took the decision to reduce its output without consulting the OPEC+ group of producers, which includes Saudi Arabia. OPEC+ decided in October to cut output by 2 million barrels per day and has not adjusted that stance since.
The reduction in global oil supply will come at a tricky time. China's swift reopening of its economy in December after almost three years of strict coronavirus restrictions has pushed up estimates for global oil demand.
Last month, the International Energy Agency said it expected global demand to surge by 1.9 million barrels per day to reach an all-time high of 101.7 million barrels per day, with China accounting for nearly half of the increase.
Western sanctions — added to the grinding cost of war — are weighing on Russia's economy. The country's budget deficit ballooned to $45 billion last year, or 2.3% of its gross domestic product.
But Russia's central bank held its main interest rate at 7.5% Friday, saying that economic activity was better than expected and that inflation was likely to come down this year.