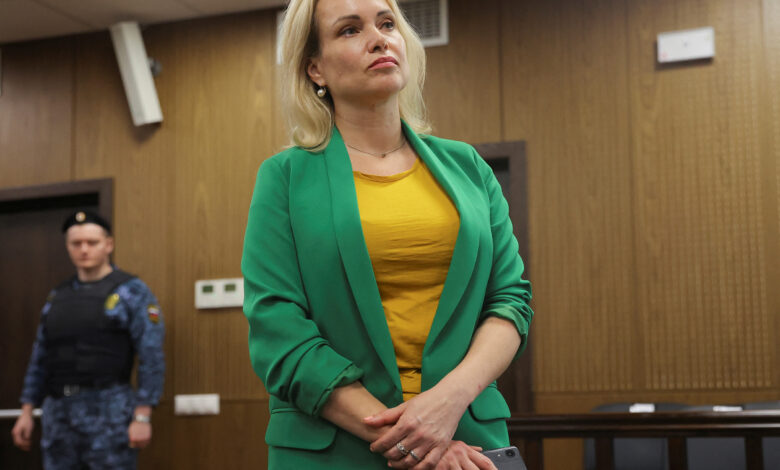 Marina Ovsyannikova, the Russian state television journalist who made a dramatic, on-air stand against the invasion of Ukraine in the first weeks of the war, has been found guilty of "discrediting the Russian armed forces" after staging another protest earlier this month.
Ovsyannikova was fined 50,000 rubles (around $820) after sharing content of herself holding a one-woman anti-war demonstration on an embankment opposite the Kremlin in Moscow.
In the video and photo she shared on her Telegram channel, Ovsyannikova was seen holding a poster saying: "Putin is a murderer, his soldiers are fascists. 352 children are dead. How many more children need to die before you stop?"
At her feet were two dolls and a stuffed toy, apparently stained with red paint.
More background: Ovsyannikova's live demonstration during a Russian state TV evening news bulletin in March was one of the defining moments of the early days of the conflict, and earned her international renown for visibly speaking out against the invasion from inside Russia.
During that unexpected demonstration, the former Channel One editor appeared behind a news anchor holding a sign that said: "NO WAR." She told CNN days after the incident that many Russians have been "brainwashed" by state propaganda.
Following her protest on Russian state TV, Ovsyannikova was arrested, interrogated for more than 14 hours, released and fined 30,000 rubles (around $500).
A Moscow court found her guilty of organizing an "unauthorized public event" and she fled Russia in March, but returned in July, according to her official Facebook page.
In June, the, Nations High Commissioner for Human Rights Michelle Bachelet called the "arbitrary arrest of a large number of anti-war protesters" in Russia "worrying."