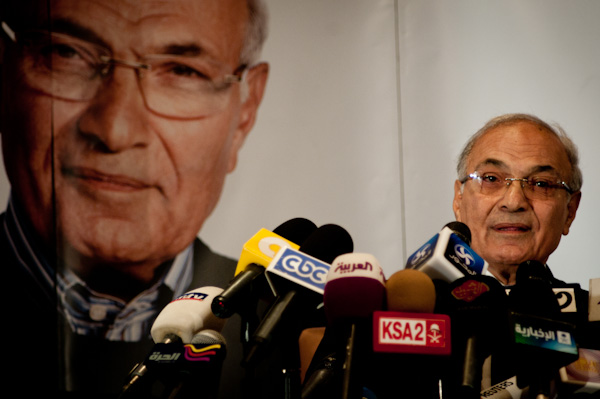 The Freedom and Justice Party's presidential candidate Mohamed Morsy and former candidates Hamdeen Sabbahi and Abdel Moneim Abouel Fotouh have agreed to mount pressure to enforce a law that would disqualify former Prime Minister Ahmed Shafiq from the presidential race.
On Monday, Morsy convened with the two ex-candidates, who were voted out of the race after the first round, in a Cairo hotel to discuss the elections, which go into runoffs on 16-17 June. The runoffs will take place amid fears that Shafiq, the last prime minister under Mubarak, would replicate the former regime if elected.
They also discussed the Cairo Criminal Court's verdict on Saturday against former President Mubarak, his sons Gamal and Alaa, former Prime Minister Habib al-Adly and six of his deputies. Mubarak and Adly were sentenced to 25 years in prison, while the others were acquitted.
The verdicts have caused public uproar, with protestors declaring the trial a farce and fearing that Mubarak may appeal and be acquitted.
Morsy, Sabbahi and Abouel Fotouh agreed to take part in Tuesday's demonstrations and to discuss forming a civilian presidential council, according to a statement by Abouel Fotouh's presidential campaign. Morsy vowed to retry Mubarak in a swift and fair hearing if he is elected president.
The Muslim Brotherhood rejected Sabbahi and Abouel Fotouh's request to withdraw their candidate from the race and form a presidential council to mount pressure to ban Shafiq.
Prior to the meeting, a member of Sabbahi's presidential campaign, Mohamed Selieman, told Al-Masry Al-Youm that if all the parties agree on a civilian presidential council, Abouel Fotouh, Sabbahi and Morsy will make a public statement at Tahrir Square. If they do not reach an agreement, a statement will be made in the media, Selieman added.
Meanwhile, the Free Front for Peaceful Change, the Alliance of Revolutionary Forces and the National Center for Popular Committees have launched a campaign to collect 13 million signatures to request a civil presidential council.
In a joint statement on Monday, the three groups accused the military council of mismanaging the country. They called on the army to return to the barracks and assume its responsibility of protecting the nation.
"The council should hand over power now and not tomorrow," the statement said, calling on protesters to gather in all squares of the country next Friday to sign the petition, and to attend a popular tribunal in Tahrir Square to symbolically try the figures of the former regime.
Edited translation from Al-Masry Al-Youm