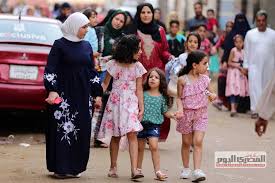 Iconic Liverpool football player Mohamed Salah, who decided to spend this year's feast in his hometown of Nagrig village in Egypt's Gharbiya, voiced anger due to irritating media and public attention that left him unable to go out of his home and perform Eid prayers with his family.
While the famed striker's wife and daughter Makka were spotted heading to the mosque to perform the Eid al-Fitr prayers, Salah was unable to join them following several failed attempts to escape fans and journalists who flocked to his house and surrounded it.
"What some journalists and people are doing now has prevented me from leaving home to perform the Eid prayers. This has nothing to do with love," Salah tweeted on the first day of Eid al-Fitr.
"This is called disrespect for one's privacy, and unprofessionalism," he added.
Salah, who arrived to Egypt on last day of Ramadan, has welcomed at his home some guests who took photos with him and rushed to publish them on the social media networks, which prompted the flow of thousands on the following day, blocking his exit.
After the throng of people coming from various governorates assembled in front of Salah's house to take photos with the star or ask him for personal help, Salah could not practice the Eid morning rituals and missed the prayer.
Fans apologized to Salah for the inconvenience they caused him.
"I've came from Kafr al-Sheikh with my son who wanted to see Salah and take photos with him," Walid Salama told El Watan News, asserting that he is deeply sorry for distressing Salah.
"We love you," he added, El Watan reported.
Salah is a back-to-back Golden Boot winner. He recently scored the first goal in the UEFA Champions League Final, which ended in a win for the Reds.