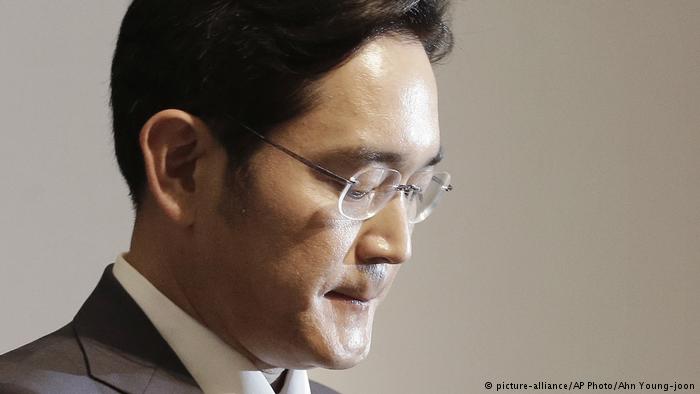 An appeal court has freed but not exonerated Lee Jae-yong after he was convicted for bribery involving an ex-president. The ruling said the "main players in this scandal" had been the president and her confidant.
A South Korean court on Monday suspended a prison sentence for Samsung Group heir Lee Jae-yong, effectively allowing him to walk free after serving a year in custody.
The court cut his five-year prison term in half and suspended part of the sentence for bribery and embezzlement charges, thereby cutting his jail time to time-served.
In 2016, Lee was convicted of bribing disgraced President Park Geun-hye for support of a merger that would strengthen his control of Samsung Electronics. The technology giant allegedly sponsored the equestrian career of the daughter of Park's longtime confidant Choi Soon-sil.
However, Judge Cheong Hyung-sik on Monday said Lee's involvement in Samsung's financial support for Choi was a "passive compliance to political power."
"Park Geun-hye and Choi Soon-sil should be seen as the main players in this scandal," said the ruling.
Park had denied allegations that she conspired with Choi to extort money and favors from South Korean companies. However, the allegations forced her to step down, making her the only president in South Korea's modern history to not complete their entire presidential term.
Tarnished image
Meanwhile, Lee's lawyer said his client would appeal part of the court ruling that found him guilty of some of the charges, saying the merger that resulted in further consolidating his power at Samsung had been completed to improve business at the world's largest smartphone maker.
According to media reports, Lee could still return to lead Samsung Group after his father was left bedridden after suffering a heart attack in 2014.
However, the heir apparent may still have to deal with the stigma of serving jail time on corruption charges involving the president.
"Public opinion will get riled up and people will keep thinking there was some quid pro quo between Samsung's Lee and the president," Lee Jung-Jae, a lawyer at the South Korean law firm Jung, told Reuters news agency.