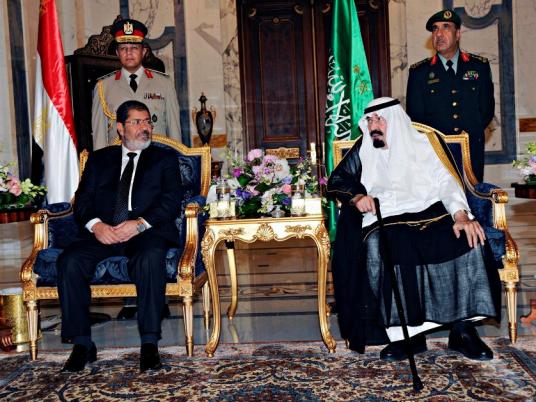 Saudi King Abdullah bin Abdul Aziz has pardoned and released 82 Egyptian prisoners on the occasion of Ramadan. Their names will shortly be sent to the Egyptian Foreign Ministry, said Saudi Arabia's ambassador in Cairo, Ahmed Qattan, today.
President Mohamed Morsy was in Saudi Arabia on Wednesday to attend the Extraordinary Islamic Summit held in Mecca, along with leaders of Muslim countries, when the announcement was made.
It's not yet clear whether Ahmed al-Gizawy will be among the released. Gizawy, a human rights lawyer, was arrested at the airport in Jeddah this year on 25 April for allegedly possessing large quantities of Xanax, a drug banned in Saudi Arabia. Prosecutors have sought the death penalty in his case, which has been adjourned to September.
In April, Saudi Arabia closed its embassy in Cairo after thousands of Egyptian staged protests outside the embassy over Gizawy's detention.
Edited translation from Al-Masry Al-Youm