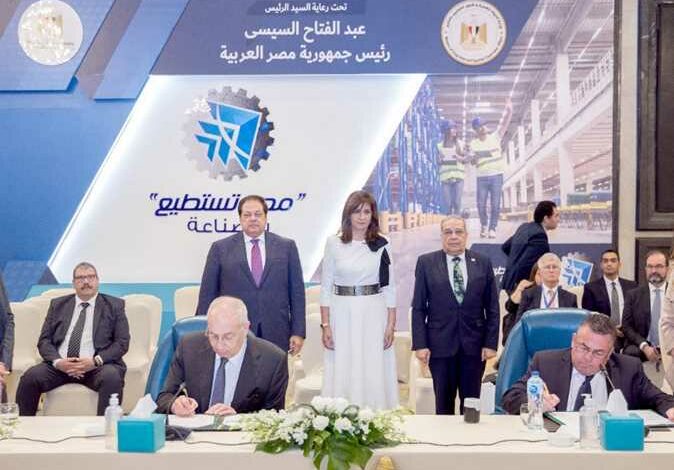 The Suez Canal Economic Zone (SCZone) signed a memorandum of understanding with the German company H2 Industries.
The company specializes in energy storage, to establish the first plant for converting waste into green hydrogen in the economic zone, with investments amounting to about US$ 4 billion.
The signing comes on the sidelines of the sixth edition of the Egypt Can Industry Conference, which is currently being held in the New Administrative Capital under the auspices of the Egyptian President Abdel Fattah al-Sisi.
The memorandum of understanding was signed by: President of SCZone Yehia Zaki, and Michael Stusch, CEO of H2 Industries, to establish a plant for converting waste into green fuel in the East Port Said region, with a production capacity of 300,000 tons per year of green hydrogen.
Zaki stressed that the efforts made by the authority to attract this type of investment in the economic zone.
This field is one of the sectors targeted by the authority in accordance with the Egyptian state's strategy for transforming into a green economy, as well as in conjunction with Egypt's hosting of the Climate Change Summit COP27 in November.
Zaki pointed out that these industries are based on the availability of components possessed by SCZone, especially those enjoyed by the integrated areas of Sokhna and East Port Said; where the port is adjacent to the industrial and logistic areas, which facilitates the operations of supplying ships and for export purposes to foreign markets.
For his part, Stusch said that the establishment of this station, the first of its kind, to convert waste into green fuel in Egypt, is the beginning of the company's expansion in the Middle East and North Africa.
He pointed out that converting green hydrogen into clean fuels – especially for the aviation sector – is a promising market, coinciding with the global transformation of the green economy and the reduction of carbon emissions, as the plant is expected to absorb about four million tons of waste annually.