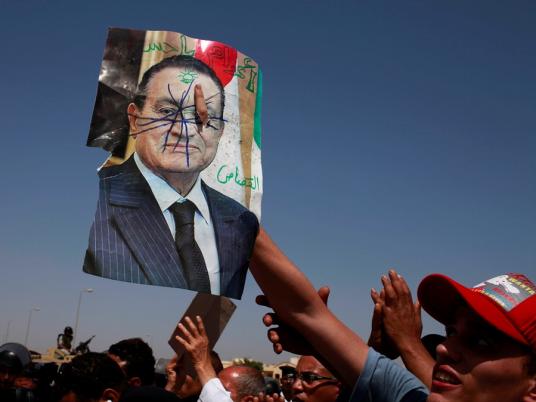 Nearly a year and a half after protesters mocked former President Hosni Mubarak's luxurious lifestyle from the sidewalks of Tahrir Square, Egypt has yet to see a cent of the funds he allegedly funneled abroad.
At their most outrageous, estimates of Mubarak's and his sons' wealth reached US$700 billion.
A trying year with no concrete results from investigations has not bolstered optimism that Mubarak's hoarded cash will flow back into Egypt's coffers any time soon. In June, Mubarak was acquitted of the most serious corruption charges against him, further discouraging hopes that his money could be returned.
Some working on the issue are either despairing, or giving up to focus on other matters.
Hossam Eissa, the president of the Commission to Restore Egypt's Wealth, tasked with returning the ill-gotten gains stashed abroad, said that Mubarak's money overseas has been "lost forever." In mid-June, he said in a TV interview that neither President Mohamed Morsy nor presidential candidate Ahmed Shafiq stood a chance of getting a single penny back.
He pointed to the performance of the recently dissolved Parliament, which did not pass any laws to help return the funds. "God willing, Egypt will repatriate all its stolen money, but only after 3,000 years," he said.
Wasat Party Vice President Essam Sultan, who has been vocal about returning the money, was one of the few People's Assembly members to take up the cause. He submitted a draft law to repatriate assets siphoned abroad by members of the former regime.
But with Parliament dissolved and a new president, Sultan has turned his attention to more urgent issues. He said he still has hope, though.
"I'm not focused on the issue right now," he told Egypt Independent. "But with design, planning and focus, [returning the money] should be easy."
Thanks to a modern banking system that is designed to nearly always protect the anonymity of the account holder, the Mubarak family's money could be hidden away in dozens of countries. But many countries are reluctant to begin talks of returning funds without a corruption conviction in an Egyptian court.
The United States has yet to freeze any accounts connected to former regime officials. The UK has also not seized any assets, including a house in London widely known to belong to the Mubaraks.
In April 2011, Public Prosecutor Abdel Meguid Mahmoud sent a memo to the US and other governments warning that Mubarak could have stowed away up to $700 billion in cash, gold and other state-owned valuables. Titled "Request for Judicial Assistance," the memo, obtained by the Washington Post, was meant to provide foreign governments with evidence of stolen wealth that could result in the freezing of illicit accounts. It has not resulted in that.
Some officials have repeatedly complained that the demands from Egypt are too broad for them to take any specific action.
A leading London-based investigator involved in the restitution of Mubarak regime funds told The Guardian in March that the process would require precise detective work.
"These people have been in power for years and it will take years to unravel. We have seen in recent cases how they use corrupt lawyers and accountants [to move money]," the investigator said.
Eissa recently said that the Mubarak family had squirreled away large amounts of money in Singapore, though he cited no evidence.
Jacob Chew, a political officer at the Embassy of Singapore in Egypt, said the embassy had no knowledge of whether the Mubarak family had deposited any illegally-obtained funds in Singaporean banks.
"If the Egyptian authorities have any information regarding this matter, they could convey the details to us through the appropriate channels for further investigation," he wrote in an email.
Switzerland's ambassador to Egypt, Dominik Furgler, said that those despairing of seeing any funds returned are wrong.
Mubarak has so far been acquitted of very limited corruption charges relating to Sharm el-Sheikh villas, he said, rather than corruption related to any foreign-held accounts, adding that Switzerland was cooperating to ensure monies were returned to Egypt. "We are proceeding step by step."
The country has been particularly proactive in working to restitute funds. It froze accounts hours after Mubarak left power, sent teams of Swiss investigators to Egypt, and also opened a case accusing Mubarak and officials of money laundering, as well as belonging to, and supporting, organized crime. In October, the Illicit Gains Authority found that Mubarak's sons held assets worth $340 million in Switzerland, and may have been involved in money laundering.
The court case means that both Swiss and Egyptian prosecutors have access to Egypt's files and can share evidence. A guilty verdict in a Swiss court would be a strong precedent for ordering funds to be restituted. Furgler is confident that Egypt will see some financial recompense for the corruption of the past 30 years.
Once an Egyptian court rules that the funds were gained illegally, Swiss banking authorities take over. Furgler points to the case of Zakariya Azmy, former presidential chief of staff, found guilty in May of embezzling LE42.6 million during his time in office. He was sentenced to seven years in prison and fined LE36 million. Furgler said Mubarak's proceedings could have similar results, with the money finally being returned from abroad.
This piece was originally published in Egypt Independent's weekly print edition.