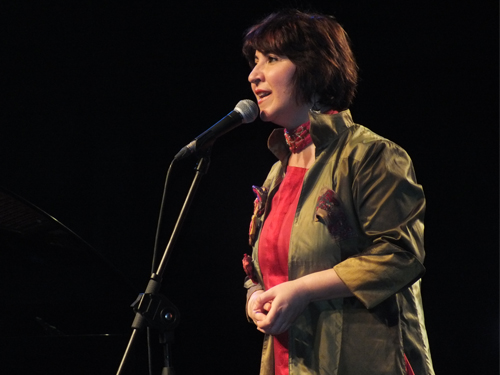 Last weekend, Lebanese singer Oumeima El Khalil performed with composer and pianist Hani Siblini for two consecutive nights at El Genaina Theater. Fans of various ages and backgrounds came to see Khalil perform live, as her songs with leading composer Marcel Khalife have been a beacon for poignant issues around the Arab world, such as the Palestinian cause and the Lebanese civil war.
Khalil's songs are mostly based on works by leading poets such as Mahmoud Darwish, tuned to modern classical Arab music beats. She became very popular at the age of 12, when she sang Khalife's song "Asfour." For the following two decades, she sang with Khalife in his Al Mayadine Band.
Khalil tells Egypt Independent that Khalife greatly influenced her, helping her find her voice and her interests. "His passion and political positions gave me and the band [a] strong presence throughout the Arab world and internationally," she said.
Khalil is now also experimenting with different composers, while keeping her place with Al Mayadine. She has worked with Lebanese composers Charbel Rouhana and Hani Siblini, as well as Syrian composer Basel Rajoub. But she continues to be identified mostly with Khalife and his music.
Though she would like to sign in different music genres, she has not yet found the type of experimentation with Arab tunes and instrumentation she is looking for. Jazz-fusion, for instance, is currently very popular in the regional independent music scene, says Khalil. But it is also so different from the Arab quarter-tone music scale. As a result, she feels that she cannot fully "identify with it." Khalil also argues that due to the increased commercialization of the Arab music scene, musicians and bands are escaping from it by merging and adapting different music genres, thinking that it would make their music of higher value.
"We cannot just add the [sound of the] keyboard here and some foreign percussion instrument there and present it as contemporary Arab music," says Khalil. She added that there needs to be more experimentation, and Khalil prefers to see the inspirations coming from within the region and its heritage.
Khalil is trying to do that with her music and songs. She will be releasing two new albums in the fall: "Rass'el" (Messages) with songs by Essam al-Haj, Basel Rajoub and Hani Siblini, and another album titled "Onshoodat Matar" (A Rain Song), based on a poem by the pioneering Iraqi poet Badr Shakir al-Sayyab, performed with the Russian Orchestra.