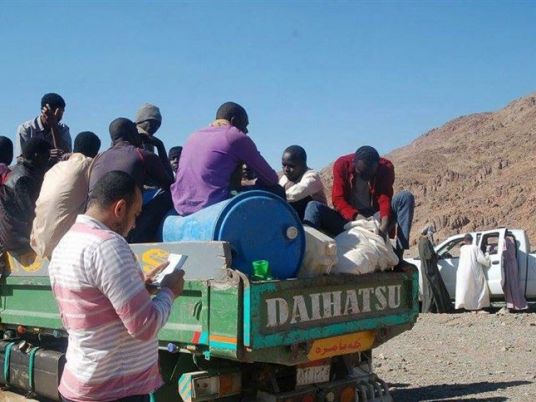 Egyptian security forces have arrested dozens of gold ore smugglers and destroyed their vehicles in a three-day operation in the Eastern Desert, a security source said on Thursday.
About 35 pick-up trucks used by gold ore smugglers were destroyed in the crackdown and 60 alleged smugglers were arrested in the crackdown, which took place in the Wadi al-Hamamt area, close to Qusair City, and al-Baramya area in Marsa Alam, both in the southern part of the Red Sea governorte.
The illegal excavation for gold ore has been on the rise in the Eastern Desert in recent years, assisted by the large size of the region, and the lack of security in remote areas. Security forces have launched repeated crackdowns recently, arresting many involved in the illegal extraction and smuggling of gold ore.
Gold excavation in Egypt has been conducted since ancient Egyptians times, mainly in the Eastern Desert, with almost 120 gold mines in the area, according to official reports by the Petroleum Ministry's Egyptian General Authority for Mineral Resources.
While much gold mining is conducted legally in the area, in cooperation with the Egyptian government, there is also illegal extraction conducted without permits, which is what security forces are seeking to stop.
Wadi al-Hamamt includes the Fawakhir mine, which was closed in 1954. An estimated 7 tons of gold ore were excavated from the mine from 1948 to 1954.
The Sukkari Gold Mine is the richest and most renowned in Egypt at present, and is operated jointly by Centamin and the Egyptian government. It is located in Marsa Alam in the Red Sea governorate and has produced over 50 tons of gold since 2010.
Edited translation from Al-Masry Al-Youm