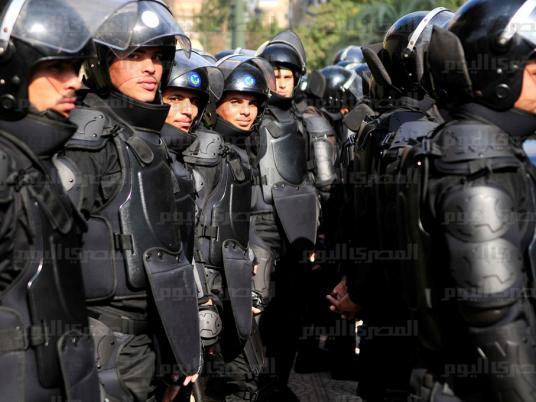 As security authorities accused protesters trapped inside the Fateh Mosque in Ramsis, Cairo, of shooting at the security forces and passers-by outside on Friday, Muslim Brotherhood leaders have refuted the Interior Ministry's account.
The Islamist group instead claims that security personnel were sent down by a military helicopter above the mosque's minaret, alleging that those were the ones who exchanged fire with security forces in some kind of choreographed battle, thereby covering up the "crime" of raiding the mosque as previously done at Rabaa al-Adaweya mosque.
While police accused the Muslim Brotherhood and their supporters of using mosques to store weapons to be used against their opponents, the group stressed that security forces had set fire to mosques that protesters used as shelter from fires shot on them during peaceful protests.
Egypt Independent has investigated the events at Ramsis Square, trying to find out the truth with parties to the conflict.
Major General Hany Abdel Latif, media and PR director at the Interior Ministry, told Egypt Independent claims that security fired from the minaret were untrue. He said the claim is part of Muslim Brotherhood allegations which seek to delude its followers and the public, arguing that live media footage was evidence of that.
Abdel Latif said armed men stationed on the minaret fired from automatic and BB guns at security and pedestrians. He revealed that 385 people were arrested at the mosque with arms in their possession, and are being interrogated.
The official added that the arrested suspects include three Irish, one Turk, and one Syrian. He added that three automatic guns, two BB guns, 24 fire bottles and various bullets were confiscated.
A security campaign targeting Brotherhood offices at different governorates managed to apprehend 70 members who are accused of instigating the incidents.
But Hamza Zawbaa, spokesperson for the Brotherhood's Freedom and Justice Party, denies the group's use of violence, arguing that it defends a "just cause" and adopts democracy as means to assume power, which, he said, happened after five different elections and referenda.
Zawbaa told Egypt Independent that the Muslim Brotherhood never resorted to violence throughout 30 years under former President Hosni Mubarak despite the persecution it suffered by security and the media. "Why would the group adopt violence after coming to power and having millions of supporters at the street?" he wondered, adding that the political scene proves the Brotherhood is the victim in all cases given hundreds of its followers who are being killed daily.
Zawbaa accused security of shooting and attacking mosques and churches.