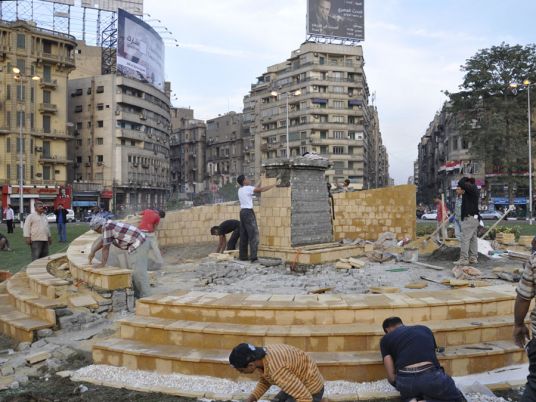 The Tahrir Square memorial, dedicated to the martyrs of the 25 January and 30 June revolutions, was rebuilt on Wednesday evening by the Directorate of Housing in Cairo and the Arab Contractors Company after it had been smashed by dozens of protesters on the anniversary of the Mohamed Mahmoud clashes.
.
A police officer and guards from a private company were assigned to secure the memorial.
The designated police officer told Al-Masry Al-Youm, "I am ordered to wear plain clothes and security personnel have been sent to [help] me."
Security forces at Qasr al-Nil Police Station or Abdeen Police Station will be dispatched if assaults on the memorial take place, he added.
Two armored army vehicles were stationed in Tahrir Square along with other joint army-police forces amidst a state of calm. The square was opened for traffic.
Yassin Abdel Bary, head of the west Cairo district, said he asked the police to patrol the area to prevent assaults on the memorial.
Edited translation from Al-Masry Al-Youm