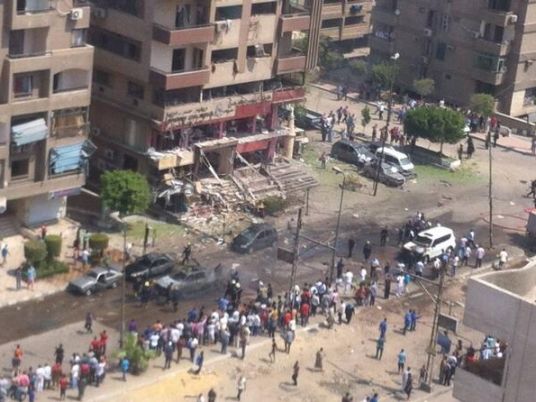 A security source from the Interior Ministry said investigation teams suspect foreign and Arab elements of orchestrating the failed assassination of the Interior Minister on Thursday, Turkish Anadolu News Agency reported.
Security authorities are coordinating efforts with the National Security Apparatus and the police to raid the suspects' hiding places.
The minister's convoy was attacked on Thursday morning with improvised explosive devices as his convoy moved from his home in Nasr City. The attack led to the injury of 10 security guards and 11 civilians, one of whom died later.
The source added that the investigation team has inspected the scene of the attack and is currently gathering information, examining footage and hearing eyewitness testimonies.
The prosecution is examining surveillance camera footage from nearby shops and also footage of foreigners who recently entered Cairo.
The source added that rented apartments in Nasr City had been searched and that the identities of foreign tenants were checked.
According to the investigations, the orchestrator of the attack is a young Arab man who had rented an apartment in Nasr City and received Egyptian, Arab and foreign visitors. The explosives used in the assassination attempt were smuggled into Nasr City via Sinai, and the bomb made inside the apartment located on Mostafa al-Nahhas street where the attack occurred.
The terrorist cell monitored the movement of the minister's convoy and used a remote control device to detonate a car bomb approximately 300 meters from the minister's home, the source added.