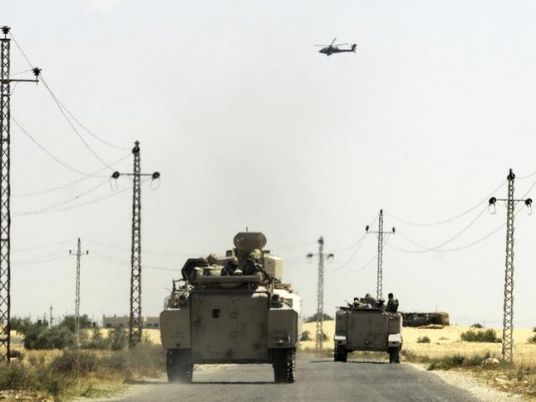 One Monday in early April, Shaher Saeed was driving south of the city of Al-Arish in Egypt's North Sinai when he came upon a group of "Islamic State" (IS) militants who had stopped a truck carrying cigarettes.
"I saw them forcing the driver from the vehicle and stripping the upper part of his clothing before tying him to the door of one of their cars," said Saeed, who lives in the area. "They hit him on the back more than 10 times, then burned all the cartons of cigarettes … They let him go after warning him not to trade cigarettes again."
Interviews with residents of North Sinai and reviews of IS videos suggest the group's local affiliate, known as Sinai Province, is seeking to impose its hardline interpretation of Islam on the local populace for the first time. According to Sinai Province videos reviewed by Reuters, the group has created a morality police force, known as a Hisba, to enforce strict rules against such behaviour as smoking, men shaving their beards or women exposing their faces.
Coupled with a sharp increase in attacks on Christians inside and outside its predominant area of operations in North Sinai, the developments mark a significant change of tactics for Egypt's Islamic State affiliate. Previously, the group had mostly attacked police, soldiers and their informants.
The group's widening geographical reach and shift in focus present a challenge for President Abdel Fattah al-Sisi, who came to power in 2013 vowing to eradicate Islamist extremism and restore security. Despite government crackdowns that have seen hundreds of militants and protesters killed and thousands jailed, IS is still mounting deadly attacks in Egypt.
The developments reflect how IS is expanding operations in the Arab world's most populous country as the extremist group faces setbacks in Syria, Iraq and Libya, say analysts. While the group has failed to capture territory in Egypt, it is trying to stoke sectarian tensions and social unrest. An examination of what's happening in North Sinai, a region rarely accessible by reporters, shows the strategy is scoring some success.
A 25-minute video posted in late March on an internet channel often used by IS showed jihadists announcing the creation of a Hisba in North Sinai, modelled on religious police units operating in parts of Iraq and Syria controlled by IS. The video denounced Christians and Sufi Muslims, and showed enforcers, wearing jackets identifying them as Sinai Province Hisba, burning confiscated cigarettes and drugs and destroying tombs and shrines, which they consider un-Islamic.
In the video, an unmasked young militant warns that the Hisba will punish dissenters according to its interpretation of Islam. Enforcers are shown hitting one man with plastic tubing and beheading two elderly adherents of Sufi Islam, accusing them of sorcery and apostasy. Reuters could not verify the authenticity of the video, which has since been removed from the internet.
Egypt's military spokesman declined to comment on the incidents in North Sinai, the thinly populated but strategic peninsula between the Suez Canal, Israel and Gaza where a legacy of government neglect has created fertile ground for radicalisation among disenfranchised locals. A security source downplayed concerns that the militants were capable of spreading the kind of sectarian violence that has torn apart Iraq.
"They are trying to have an impact, and we are not saying we have completely eradicated them, but they are weak," he said.
The latest shift in militants' tactics began in December, when an IS suicide bomber killed 28 people at the main Coptic Christian cathedral in the heart of the capital Cairo. In February, Sinai Province declared in another video its intent to wipe out Egypt's Christians, who account for about 10 percent of the 92 million population.
Christians have long faced sporadic attacks in Egypt, usually sparked by disputes over land, church-building or inter-religious love affairs. But the murder of seven Christians in North Sinai in the three weeks from Jan. 30 was different, more systematic and more insidious, officials and rights groups said at the time. About 175 families fled the area. Some of them told Reuters that hit lists of local Christians had been circulated online and pushed under doors.
Last month, IS militants killed at least 45 people in two church bombings on Palm Sunday, prompting Sisi to declare a state of emergency.
Mokhtar Awad, research fellow in the Program on Extremism at George Washington University, said the new campaign against Christians was an effort to tear at the fabric of society and state when other means had failed. "A confluence of factors has seen this escalation happen now," he said. "They hope that this is the first step to basically unravel the country."
As well as launching attacks in major cities like Cairo, Alexandria and Tanta, where the church bombings took place, militants are ranging further afield inside North Sinai. Where fighting once centred around the cities of Rafah and Sheikh Zuweid, near the Gaza border, militants have carried out more attacks in and around Al-Arish, the provincial capital about 52 km (32 miles) further west.
Abandoned and Destroyed
Since 2014, when homegrown Sinai militant group Ansar Bayt al-Maqdis pledged allegiance to Islamic State, Egypt has resorted to ever more destructive means to root out the jihadists. It has smashed a network of tunnels used to smuggle weapons in from Gaza; razed hundreds of homes to create a no-man's land; and mounted numerous air strikes. Those policies have prevented militants seizing territory, but at a high cost for locals.
In the stretch of highway that separates Sheikh Zuweid from Rafah lie about 14 villages. Eleven of them, say locals, are now abandoned. A Reuters reporter drove through three of the villages in October and saw empty streets, destroyed homes and orchards felled by the military to deprive militants of cover.
In the village of El Zahair, about half the residents had gone. Those who remained said they had little alternative.
"We live by planting the land near our house with tomatoes, beans, whatever and eating them. If I went to Al-Arish, I have no money to rent a flat; and if I managed to find a flat, how would I find the money to eat?" said Suleiman Abu Hameed. "The security forces have besieged the terrorists but they have besieged us, too."
In the village of Moqataa near Sheikh Zuweid, mounds of rubble dotted the streets where houses once stood. Even buildings unscathed by the near-four-year-old war between Egypt's army and Sinai Province were abandoned.
Karam al-Zubeiydi, a former resident of Moqataa, works at the Arish post office earning 1,200 Egyptian pounds ($65.97) a month and has no immediate plans to return.
"At any moment, an air strike could kill me and my children" there, he said. The military had destroyed his olive trees, Zubeiydi said. "So I planted tomatoes, but then I couldn't get fuel for the engine that draws water from my well, so I couldn't live there."
Zubeiydi's children used to go school in Sheikh Zuweid, but it became too dangerous and time-consuming to send them, he said, because of the army and police checkpoints on the road. Many people who remain in the villages now educate their children at home, Zubeiydi added.
Roadblocks
On some stretches of road between Sheikh Zuweid and Al-Arish, a coastal city that once drew visitors to its beaches, army and police checkpoints are so close together that one can be seen from another.
To prevent car bombings and shootings, security forces place concrete barriers in zigzag formations or set up defence lines reinforced with sandbags. Some checkpoints force cars to take short detours off the main road. Such measures, however, have not stopped Islamic State fighters from setting up their own impromptu roadblocks, where they check IDs, tell women to cover up and carry out public punishments, locals say.
One female teacher said she was on her way from Al-Arish to the school where she works in Rafah in late February when three masked Islamic State fighters stopped her bus. Two got on and advised the women to veil their faces and travel with chaperones, she told Reuters.
A few days later it happened again, she said. This time, the advice to wear the niqab, or face veil, came with a threat of punishment by lashings or acid attacks for those who refused. The teacher said she did not comply.
"The situation is difficult. People are scared," the teacher said. She declined to give her full name for fear of retaliation by Islamic State fighters, who have beheaded locals they accuse of going against their austere interpretation of Islam or of collaborating with Israel or Egyptian security forces. She was one of two female teachers who told Reuters that Islamic State fighters had boarded their buses.
Ibrahim al-Tadawy, the top Education Ministry official in North Sinai, said teachers were travelling as normal in ministry-organised buses from Arish to schools in Rafah. "North Sinai is secure and stable and the educational process is taking place as usual," he told Reuters by telephone.
Despite the tight security, residents of southern Rafah said Islamic State fighters had confiscated satellite dishes, and residents of Al-Arish said a shop which sold videos and DVDs had been attacked. Reuters was unable to track down the owner of the shop, now closed.
The military spokesman declined to comment. The security source said the militants were unable to impose themselves on society.
"This is all nonsense," the source said. "They come out for two minutes and film two cars and say, 'We set up a checkpoint.' This was all for the media, for people like you to write things that bear no relation to the reality on the ground."
While the army has had some success in purging jihadists from the border areas, militants have resurfaced elsewhere, according to police and residents based in Al-Arish. They say the militants have moved into the city and are now all around them, hiding among the civilian population.
"The places they were living no longer exist or now have a large security presence. Now they have started to come out of the streets in the city to attack us and then disappear among the people," said Badr Ali, a policeman at an Al-Arish checkpoint. "The problem is that the people, if they spot the gunmen, are too scared to even point to them."
Mona Barhoum, a local rights activist from Rafah, said that while Islamic State's affiliated militants don't control the region, "they are present, they pop up like a jack-in-the-box, they kill or kidnap someone and go back into hiding."
Reporting by Ahmed Mohamed Hassan (Al-Arish) and Lin Noueihed (Cairo); Editing By Richard Woods and Sara Ledwith; Reuters