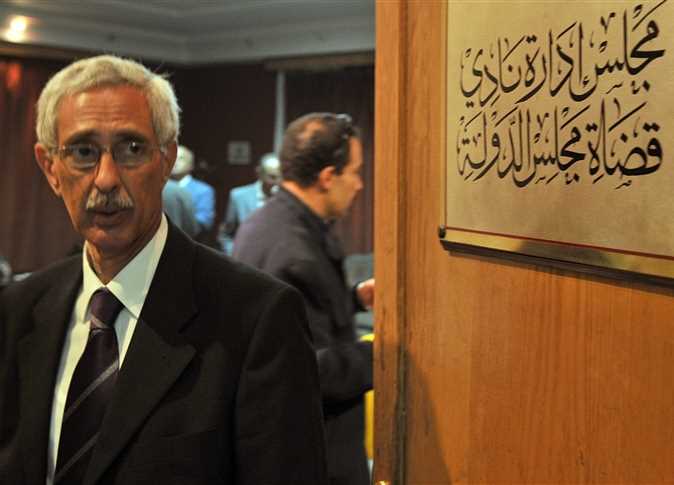 Deputy Head of the State Council Yehya al-Dakroury sent a grievance to President Abdel Fattah al-Sisi Monday stressing his right to be appointed head of the state council.
Sisi issued a decree appointing judge Ahmed Abuol Azm as the head of State Council as of Thursday, replacing judge Mohamed Masoud, whose term ended Wednesday.
Dakroury was nominated as the sole candidate for the position, by the General Assembly of the State Council, in May.
Dakroury said in his grievance that overriding the principle of seniority for the head of State Council appointee is an unprecedented move, and that a decision such as this neglects one of the pillars of the judiciary and affects the proper functioning of justice.
He explained that his grievance was not personal, but rather for the justice system, and that the older judges hold the right for absolute seniority. Dakroury added that the position is not to be granted to anyone, but that the constitution is based on seniority as the sole criterion for choosing judiciary heads, stating that violating the rule of seniority makes the decision contrary to the Constitution and the law.
The assembly had sent its recommendation to the president but it was ignored and Aboul Azm was appointed instead.
The move was in accordance with the new judicial authority law, which gives the president of the republic the right to select heads of judicial authorities.
The new law has been speculated to be designed as a control mechanism to choose the State Council head.
Dakroury issued the infamous ruling in June 2016 that nullified the Red Sea islands demarcation agreement with Saudi Arabia.
Samir al-Bahy, chairman of the State Council Judges Club, has said that the Red Sea islands case is the reason behind amending the Judicial Authority Law, to give more power to the president to choose the head of the State Council.
Edited Translation from Al-Masry Al-Youm