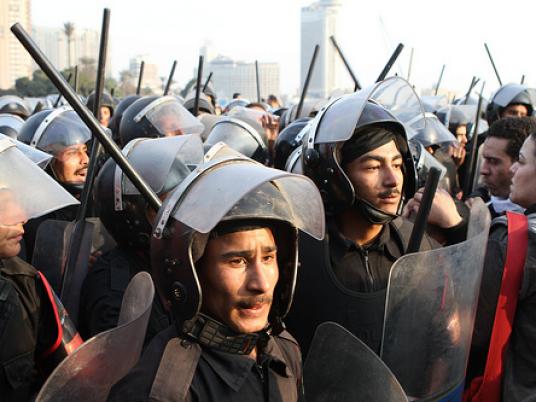 The Cairo Criminal Court acquitted on Thursday seven police officers accused of killing three civilians and wounding others on 28 January 2011, during revolution protests.
The defense argued the evidence used to prosecute them was based on hearsay and inspired by vendettas against the defendants.
Prosecutors said investigations showed the policemen had fired at peaceful demonstrators in Dar al-Salaam. Their trial on charges of murder and attempted murder began on 25 October 2011.
Over the past few months, several local courts have acquitted policemen accused of killing demonstrators in various governorates during the uprising.
The only policeman to be issued the death penalty, Mohamed Ibrahim Abdel Moneim, is now facing a retrial.
Over 800 people were killed during the 18 days of protests leading up to President Hosni Mubarak's resignation in February 2011, and more than 6,000 were wounded by live ammunition, rubber bullets, water cannons and batons.
Edited translation from Al-Masry Al-Youm