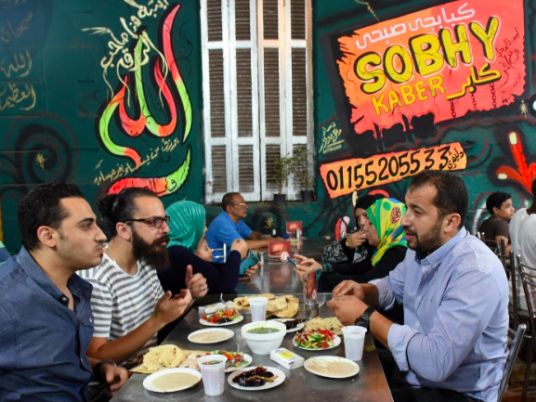 Through Cairo's narrow, bustling streets where laundry lines hang from shabby apartment blocks, the tantalizing smell of grilled kebabs lures patrons from across Cairo.
Kaber Subhi, in the Egyptian capital's northern suburb of Shubra, is one of a number of eateries that have become hits across the vast metropolis despite its decrepit surroundings.
One specializing in spicy sausage sandwiches even goes by the name Zizo Natana – the second word meaning "fetid" in Arabic.
These restaurants are becoming magnets for discerning diners, appealing not only to residents of Cairo's poorer neighborhoods but also drawing well-to-do clients willing to travel across town.
At Kaber Subhi, the patrons may arrive in expensive cars but they sit at tables in an alleyway shooing away tenacious stray cats.
The restaurant is one of thousands in the city offering the staples of kofta, ground meat grilled on a spit, and kebab, pieces of beef or mutton, but customers say the dishes here are special.
"It is a mix of secret sauces," says owner Subhi al-Sayyid.
Nurridin Gevara, a pharmaceutical student who travelled to Kaber Subhi from an affluent Cairo suburb, sits at a table and orders kebabs, kofta, fried liver and an array of small plates of tahini sesame paste, salad and pickles.
As boisterous patrons finish off their plates, Gevara says he isn't bothered by the run-down atmosphere.
'Real pulse' of life
"The cleanliness of the surroundings is not important," he says, tearing off a piece of Egyptian flatbread, the rich and starchy whole wheat staple served in stacks at such restaurants.
"The important thing is the meals are good and clean, and taste great."
Near the restaurant, a worker cuts pieces of meat that are placed on the charcoal grill, also in the alley, sending up clouds of smoke.
"Everything happens in front of us," says Walid Rashad, a 33-year-old engineer.
As midnight approaches more customers arrive, some of them families who stand patiently in the alley waiting for an empty table.
Evita Adib, a 30-year-old doctor, arrives with her husband, having traveled from the affluent Heliopolis neighborhood for Kaber Subhi's molokhiya.
The Middle Eastern staple consists of a broth made from Jute leaves. Each country has its way of preparing the dish, which in Egypt is served thin and slimy, often with rice, chicken or rabbit on the side and sprinkled with a pungent mix of fried garlic and coriander.
"We could have had dinner anywhere close to home but this place tastes different," Adib says. "Here you feel the real pulse and spirit of life."
Kaber Subhi's molokhiya is even better than her mother's version, she says, adding that "my mother was famous all her life for her cooking."
Not far from Kaber Subhi, a restaurant specializing in a dish known as tagen has also grown famous well across the city.
Bibo cooks its meat and vegetable casseroles in small clay containers, which customers can order after navigating several dark streets.
Pots of mutton, rice and liver fill up the tables at Bibo, along with thin plastic cups of what's known as "the whisky" – not liquor but a dressing of lemon, vinegar and cumin that customers sip.
"It's hard for me to ask my family to cook this, no one cooks these tagens at home," says Hossam Marei, a doctor, as he stands in one of the restaurant's rooms along with 10 friends.
The restaurant also spills out onto the street, where wooden tables and chairs compete for room on the road with cars and pick-up trucks.
Zizo the Fetid
Outside the remains of Old Cairo's Fatimid-era wall, Zizo Natana serves the capital's most famous sausage sandwiches at tables on the street.
Hajj Zizo, the owner, has come to terms with his restaurant being known by its malodorous epithet, conceived by the legendary comedian and actor Adel Imam.
In his 2003 film "The Danish Experience", Imam, who plays a minister, asks his snooty sons where they want to go for dinner, proposing one foul-sounding restaurant after another.
"Should we go to Zizo the Fetid?" he asks in the film, and the name stuck.
"He's my friend," Zizo says of Imam.
"Of course, I sued him.
"My son said he was just joking. They called to apologize," says the rotund man, who inherited the shop from his father. "So, whatever, call it Zizo the Fetid."
His sandwiches, however, are considered second to none by his many fans.
"You can have sandwiches anywhere, of course," says 22-year-old student Ahmed Hisham. "But here you get good food in a historic place."