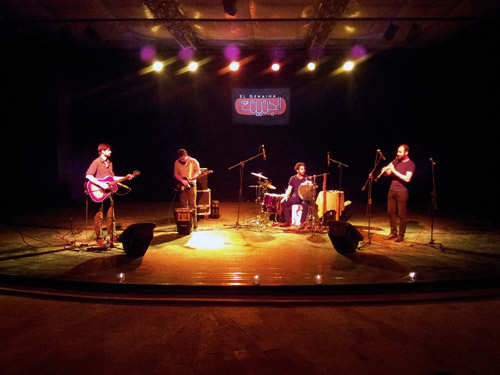 Mennat Allah Rizk is a young Muslim artist. Magdy Mikhail is Christian. They both took part in last week's workshop at El Nahda Culture and Scientific Renaissance Association in Cairo, titled "But A Shadow of Myself."
Throughout the week, Rizk photographed herself, and gradually played with the photo to reflect who she really was. Through her drawings, Rizk added in her most personal thoughts and feelings. Mikhail did the same thing. When they exchanged their drawings, to their surprise, they found out that despite the superficial differences in their backgrounds, their artwork seemed to organically complement one another, like the two artists had known each other for a lifetime.
That's exactly what workshop facilitator Alexandra Zevin aspired to achieve through "But a Shadow of Myself." The overcoming of barriers in dealing with the self and the other is the goal of much of her work. To explain her process, Zevin raised her hand and began comparing its shape with the shadow formed behind it.
"Shadows are shapes which have deeper meanings [that one can get] to know," says Zevin. "When you look at them, you see more and know more about yourself and others."
To open these ideas up to Rizk, Mikhail and other participants, Zevin introduced them to techniques from Surrealism. For instance, she asked each participant to pick a word from a newspaper, and then combined the words into one pool. Each participant picked a word randomly and used it as the basis to construct a story that reflects his or her identity. She wanted them to access the subconscious part of their brains.
"The conscious part in our brains is tiny compared with the subconscious part. If we really want to know ourselves, we must explore it," explains Zevin.
The New York-based artist and schoolteacher has been conducting similar workshops back in the US, as well as in Egypt at institutions such as downtown's Townhouse, since 2009. Previous workshops were designed as a collaboration between young artists in Cairo and New York. Like Rizk and Mikhail, artists in the US brainstormed keywords and images they felt represented them, worked in groups to trace their silhouettes, and then combined the silhouettes with text and images to create collaged self-portraits, which were further developed into paintings. Zevin then pushed it to another level by bringing the artwork to Cairo and repeating the process here. Finally, the workshop participants in Cairo and New York wrote and drew about each other's work, video-conferenced, and worked on collaborative drawings.
At the recent "But A Shadow of Myself" workshop, Zevin also introduced stop motion animation into her repertoire. After creating the self-portraits and developing them into puppets, participants were asked to create three short films from them, which were screened along with the actual puppets and collages they produced at the foundation over the weekend.
The results have always been fulfilling for both Zevin and the other artists involved. Recently, they have become colored by political events. In last week's workshop, Iman Hussein's portrait came out as a political collage, reflecting the turmoil of the past year. When she was asked to randomly pick a word chosen by other workshop participants, she ended up with "Regime," so she mixed together a photo of soldiers and a silhouette painting of her head.
Hussein's self-portrait was critical of the way Egypt's transitional period was managed. Her portrait and the puppet she later developed based on it seemed to bring out some of the characteristics of puppet theater from the time of Ottoman rule. Back then, people also used puppet theater to mock the ruler or express the injustices that fell upon them — a poignant, yet subtle approach to their political message.
Zevin, who is unfamiliar with the history of puppet theater, has been using it to similar ends. She has been teaching art in public schools in New York City for 22 years now, and using the medium to help students express themselves in relation to their surroundings.
"Working at public schools where under-privileged students are supposed to develop into active and independent grownups has shown me that we are victims of a continuous brain washing process, despite all the talk about transparency, freedoms and democracy," says Zevin.
She believes that consumerism has taken hold of society and children learn that their identities are based on what they have, rather than who they are and could be. "In such a society you can't be yourself easily; you should look for your shadow, and discover what you don't know about yourself," she explains.