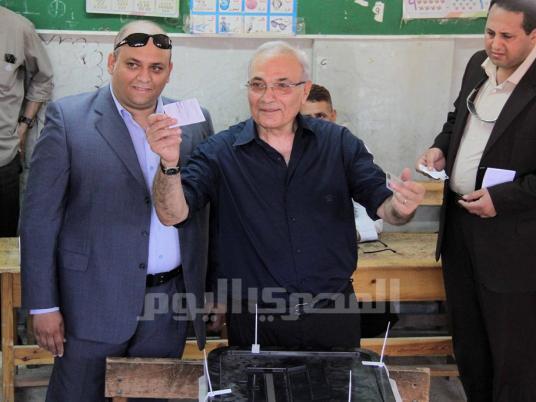 Mubarak-era Prime Minister Ahmed Shafiq said he would return to Egypt within a few weeks, and is considering an alliance with the opposition coalition the National Salvation Front, as well as another bid for the presidency.
Shafiq told the Turkish news agency Anadolu on Monday that he was confident he would be found innocent on charges of financial corruption, and would leave the United Arab Emirates to return to Cairo as soon as he resolved some "private" affairs.
Once he returns to Cairo, he would take over leadership of the political party founded by his supporters, and would also enter the running for the next presidential elections.
"I will serve the country at any position. I don't look for any post. I don't seek to rule the country like the Muslim Brotherhood. However, if circumstances allowed me, I will stand for elections," Shafiq said.
Shafiq said he would anticipate "huge investments to come to Egypt, if the Muslim Brotherhood left [power]." He added that he had communicated with several investors "who promised to invest in Egypt," and had also been working on an economic program that would get the nation out of its current crisis.
Some Gulf countries and other financial institutions were "helping the Egyptian regime [President Mohamed Morsy's administration] through the sukuk [Islamic bonds] law," Shafiq alleged.
"Whoever buys these sukuk should know that the next regime will cancel ownership of them," he warned.
Shafiq called on Morsy to hold for early presidential election, saying, "You should get yourself and your group away from the actions that will be witnessed during the coming days, and hence you should call for early elections."
"I would call for early presidential elections. I agree with all calls that have the same target, especially after the Brotherhood's failure to achieve any progress," he said.
Shafiq narrowly lost to Morsy in the first post-Mubarak elections held in June 2012. Days after his loss, he fled the country for the United Arab Emirates, and currently faces several criminal charges in Egypt.
Edited translation from Al-Masry Al-Youm