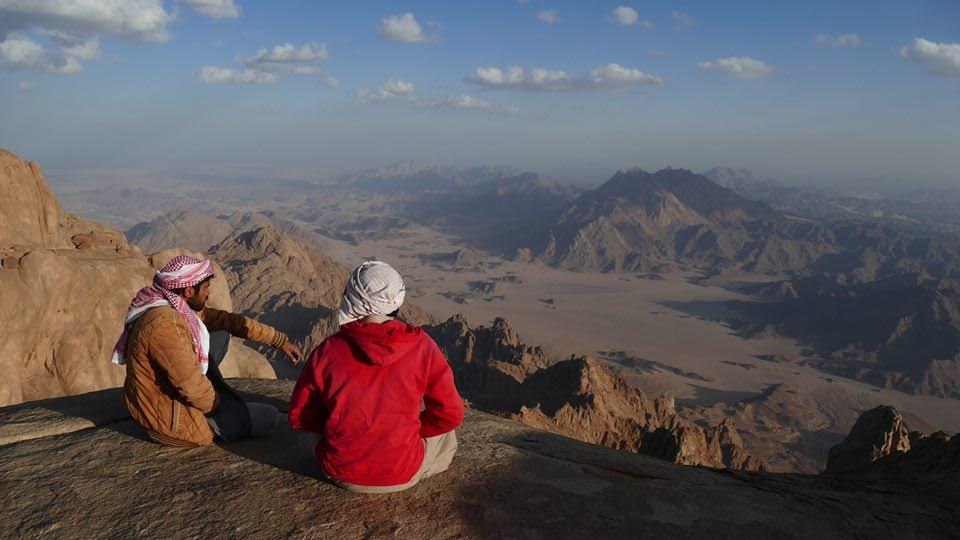 British adventurer Ben Hoffler, widely known for founding the first long-distance hiking project in the Egyptian desert in Sinai, shows off the trail on CNN's Travel trends, Travel Daily Media reported.
The British explorer discussed the numerous civilizations that have resided in this area, including the people of the Ptolemaic Kingdom, the Romans and more. He noted that the splendid project brings the route to recognition in modern times without debasing its historical or cultural value; maintaining this balance posed a serious challenge for those who have been working on the project for the past years.
At the end of January, the Egyptian Sinai desert witnessed the opening of the project: a 170km, one-of-a-kind, long-distance hiking trail. The trail was created by Bedouins of the Maaza tribe in collaboration with Hoffler, founder and ambassador of the trial, alongside a group of individuals whose hearts are committed deeply to hiking, including famed Egyptian mountaineer Omar Samra.
"What we did with the Red Sea Mountain Trail was identify all of these old routes, and then we had to think about how we can put these together in a way that creates a hiking route for modern times," Hoffler stated, as reported by Daily Travel Media news outlet. Hoffler also previously expressed through various statements his strong will to introduce fully isolated Bedouin communities to the outside world.
The project's main purpose is to boost tourism by offering a strong tourist platform with legitimate job opportunities for the remote Bedouin community. It also aims to revive the community's rich traditions, as Bedouins are known for their grasp on authenticity.
Samra commented, "This new route will create a unique experience for visitors and a micro-economy for the local people."
He continued, "Developing trails for tourism is something that is now a trend and it's growing very, very fast. But having people that have lived in this land for hundreds of years adds another completely different aspect to this experience," Samra added.
Several months ago, Egypt and CNN announced a partnership to promote Egyptian tourism in ways that do not rely on stereotypes.
The partnership came as a part of the reform program led by Tourism Minister Rania al-Mashat, tailored to deliver an up-to-date and idiosyncratic depiction of Egypt's touristic spots.
Photo credit: Ben Hoffler's Facebook Page