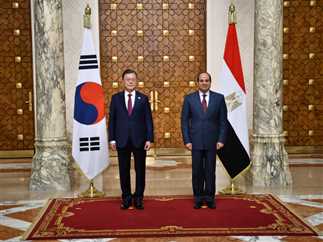 President Abdel Fattah al-Sisi discussed on Thursday, at the Ettihadeya Presidential Palace in Cairo, bilateral relations between Egypt and South Korea, with President Moon Jae-in.
The two presidents held a session of bilateral talks, which was followed by an expanded session that included delegations from the two nations official spokesperson for the Presidency of the Republic, Bassam Rady, said.
Sisi welcomed his South Korean counterpart, in this first visit of a South Korean president to Egypt in over16 years.
The Egyptian President praised the depth of relations between the two friendly countries and the remarkable momentum achievedr ecently.
Sisi stressed the importance of working to activate a comprehensive cooperative partnership between the two sides to benefit from the unique development experience of South Korea.
For his part, Jae-in expressed his happiness at visiting Egypt for the first time, thanking Sisi for the warm reception and generous hospitality and expressing keenness to continue consultation in various fields, especially in light of its pivotal role in laying the foundations of stability and security in the Middle East and the Africa.
Jae-in also expressed interest in increasing Korean investments in major development and infrastructure projects in Egypt, as well as other projects in all sectors.
Rady stated that the discussions addressed are to enhance bilateral relations: economic, trade relations and the development of the railway sector.
A priority of the Egyptian government to make a better quality of life for its citizens. 
Localization of the electric car industry, communications, information technology, digitization, tourism, infrastructure projects, and mining.
They touched on ways for South Korea to engage in the Decent Life initiative, and to increase investment in the energy sector out of keenness to diversify and secure energy sources, according to Rady.
Security cooperation between the two countries was also discussed especially in regard to manufacturing, transfer and localization of technology, to help Egypt with combating terrorism, and to benefit from South Korea's advanced technological capabilities and sophisticated military industries.
The talks reviewed the developments of a number of regional and international files of common interest: mostly of the Libyan crisis.
Sisi said Egypt continues its tireless efforts with the Libyan parties to hold national elections.
The Korean President praised the Egyptian political landscape as a cornerstone in maintaining security and stability in the MENA region.
Efforts to combat terrorism and extremist ideologies and strengthening  dialogue between African and Arab countries with other various countries of the world.
At the conclusion of the talks, the two presidents signed memorandum of understanding in the fields of trade and economy, and railways.