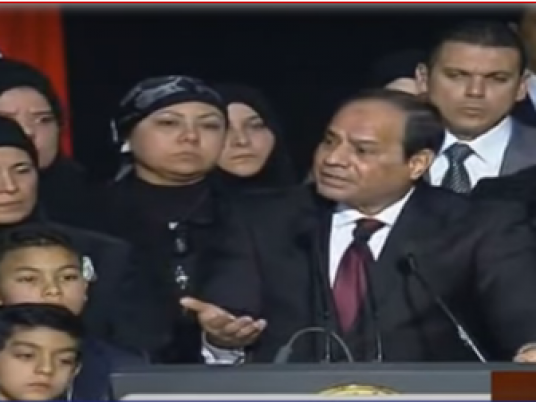 President Abdel Fattah al-Sisi has voiced disappointment with the House of Representatives' vote against the controversial Civil Service law which sparked massive protests by government employees in the latter months of 2015.
"The parliament has turned down one of the reform laws at a time when everybody is required to make more progress," Sisi said in a speech at the Police academy marking the national Police Day celebrations.
"A law designed for reform was submitted and subsequently disapproved by the MPs, fine, but bear in mind that you, at the same time, are demanding that I make reforms and progress, and the price of that is not an easy matter. Before we say a word, we have to think well," the president said, referring to the law.
"Egypt has nearly seven million (government) employees, we probably need only one million," the president told attendants, dismissing beliefs by the law's opponents that it would cause reductions to employee salaries. "What would happen then if I ask you for more concessions?" he wondered.
The law regulates the appointment criteria, vocational degrees, salaries, pensions and promotions for civil workers at government agencies. It had drawn criticism from labor rights' activists and several trade unions that lobbied against the document. The government, meanwhile, said the law would allow for remarkable improvement in the state's administrative bodies.
Planning Minister Ashraf Al-Araby said in press statements last week that rejecting the law in Parliament would hamper the second and third tranche of a US$3 billion loan to Egypt by the World Bank and the African Development Bank. He said rejecting the law would represent "a backtracking on previously agreed reforms" and a "negative message to world organizations."
Edited translation from Al-Masry Al-Youm