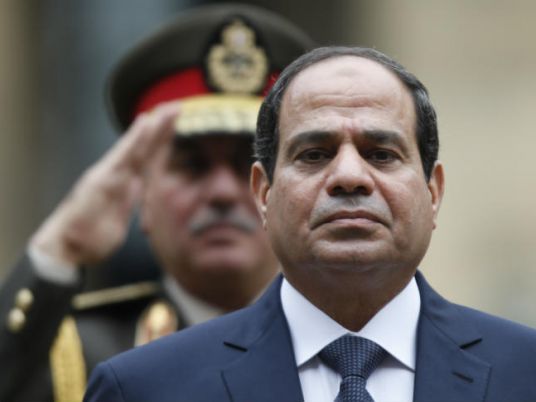 President Abdel Fattah al-Sisi is attending the final maneuvers of the "Northern Thunder" joint military exercise in Saudi Arabia on Thursday, demonstrating Egyptian support for the alliance of 20 Arab and Islamic military powers taking part.
The exercise, which concludes this week, has involved an estimated 300,000 soldiers from 14 Arab nations and six other Muslim nations in Africa and Asia.
Air, ground and naval forces have rehearsed co-ordinating on military scenarios in the eastern Saudi province of Hafr al-Baten, with the massing of forces along national borders a key element of the training.
Among those witnessing the closing action is Saudi King Salman bin Abdel Aziz, along with leaders of the other nations taking part, who have gathered at the King Khaled Military City.
Joining Saudi Arabia in the Northern Thunder exercise are Egypt, the United Arab Emirates, Jordan, Bahrain, Senegal, Sudan, Kuwait, Maldives, Morocco, Pakistan, Chad, Tunisia, Comoros, Djibouti, Oman, Qatar, Malaysia, Mauritania and Mauritius.
The exercise, which is hosted and led by Saudi Arabia, is seen by some as a means of offering moral — and perhaps practical — support to rebel and Islamist groups fighting the Syrian military in that nation's ongoing civil war.
In recent media statements, a senior Saudi military official said that Saudi Arabia had been in discussions with Western partners about the possiblity of a joint ground invasion of Syria, ideally with Western support, with a view to removing Syrian President Bashar al-Assad from power.
Brigadier General Ahmed Asseri said in late February, "It was discussed at the political level but it wasn't discussed as a military mission," commenting on high-level talks in Brussels.
"Once this is organized, and decided how many troops and how they will go and where they will go, we will participate in that," he said, referring to the hoped-for invasion of Syria.
"We need to discuss at the military level very extensively with the military experts to make sure that we have a plan," he said.
The Saudi general's comments led some to speculate that the Northern Thunder exercise was being taken as an opportunity to prepare for such a ground invasion of Syria, although it was not clear how many of the 20 nations involved in the exercise might join the actual invasion force.
Since the start of the civil war in Syria in 2011, rebel forces, both Islamist and secular, have received weapons, supplies and training from neighboring Arab states, as well as Turkey. Earlier this year, Saudi officials stated that they were ready to pour thousands more troops into Syria to undermine the government there, although it was not clear whether they intended to do this primarily by overt or covert means.
As far back as February 2015, the Egyptian president said there was a growing need for a joint Arab military force to face the threat of Islamic terror groups, such as those operating in Libya, Syria and Sinai.
In a television address, Sisi said Egypt's military will not take part in attacks on other nations, but it was ready to defend Egypt and its Arab partners.
He said Egypt would take part in defensive and anti-terrorist efforts "if required and in coordination with our Arab brothers."
Sisi said that both Jordan and the United Arab Emirates had offered military support after Islamic State (IS) militants in Libya beheaded 21 Egyptian Coptic Christians.
In recent statements, Saudi Arabia has framed any potential direct military intervention in Syria as part of its efforts to counter IS forces operating there.