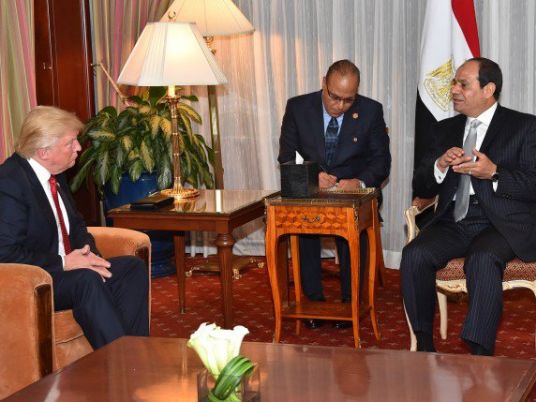 Egypt's Foreign Affairs Minister Sameh Shoukry asserted on Saturday that President Abdel Fattah Sisi did his best to refrain his US counterpart from taking the decision to recognize Jerusalem as the capital of Israel.
He explained that Sisi opened communication channels with Trump to refrain him from taking the decision. However, no effective response arrived from the US administration regarding the matter.
In a speech delivered during a session on Saturday night in the Arab League headquarters among Arab Foreign Affairs ministers to discuss the Trump's decision, Shoukry noted that Sisi's calls to resume peace negotiations between Palestinians and Israelis was neglected.
He stressed that Egypt is totally refusing the US' recognition of Jerusalem as capital of Israel, saying that his country is supporting the current Palestinian uprising against the decision.
On Wednesday, US President Donald Trump declared Jerusalem as Israel's capital, a move that stirred controversy among his western allies as well as across the Arab world.
Following Trump's decision, the spokesperson for Egypt's Foreign Ministry, Ahmed Abu Zeid called upon the UN Security Council to convene an urgent meeting to discuss the matter and to hear a statement from UN Secretary General, Antonio Guterres.