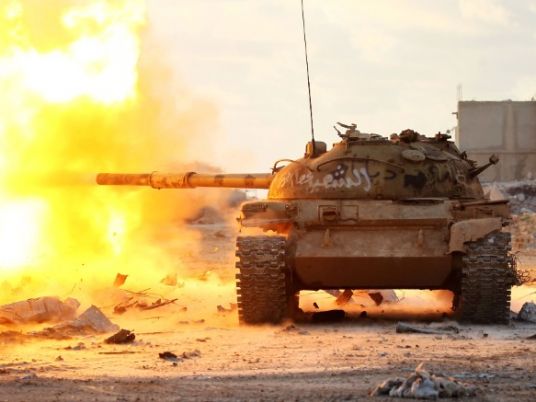 President Abdel-Fattah al-Sisi reiterated a call on the international community to lift an arms embargo on Libya on Saturday, which would allow weapons to be delivered legally to a powerful general he backs in the fractured country's east.
After meeting Field Marshal Khalifa Hafter in Cairo, al-Sisi, himself a former general, said in a statement that Hafter's Libyan National Army required the weapons to fight terrorism. Efforts should be made to stop foreign funding from flowing to terrorist groups in Libya, he added.
Libya descended into chaos following the 2011 NATO-backed uprising that toppled and killed leader Moammar Gadhafi. The oil-rich nation is now split between rival governments and militias, and Islamic State fighters entered the country amid the chaos, but were largely beaten back.
Hafter is allied with the internationally-recognized parliament in eastern Libya and at odds with the UN-backed government in Tripoli, and has fought militias loyal to western factions in the past.
Egypt has hosted Hafter as well as leaders from Libya's west for talks in Cairo in an attempt to mediate, and says it wishes to support Libya's sovereignty and territorial integrity.
The Egyptian statement said both al-Sisi and Hafter want dialogue between all Libyan factions to continue, to reach a political solution to the conflict.
It cited Hafter as expressing his appreciation for "Egypt's key role in the Libyan crisis," and "keenness on ensuring Libya's security in light of the close bonds that the two peoples share."