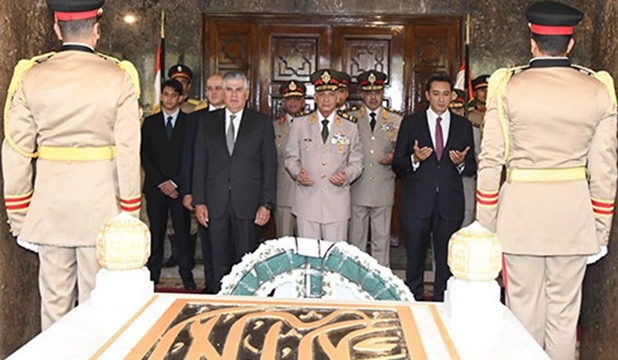 President Abdel Fattah al-Sisi delegated Minister of Defense and Military Production Mohamed Zaki to lay a wreath of flowers on the tomb of late leader Gamal Abdel Nasser marking the 53rd anniversary of his death.
Zaki conveyed Sisi's salute and appreciation to the late president's family and commended the services offered by the late leader to his nation and other peoples willing to attain freedom and independence.
The defense minister asserted that Egyptian history cherished the achievements made by July Revolution, noting that Egypt is currently making miracles with a strong, free will and resolved to continue its development march for the sake of a nation in which citizens feel dignity and pride.
The Egyptian Revolution of 1952 was a period of profound political, economic, and societal change in Egypt. On 23 July 1952 the revolution began with the toppling of King Farouk in a coup d'état by the Free Officers Movement. This group of army officers was led by Gamal Abdel Nasser.