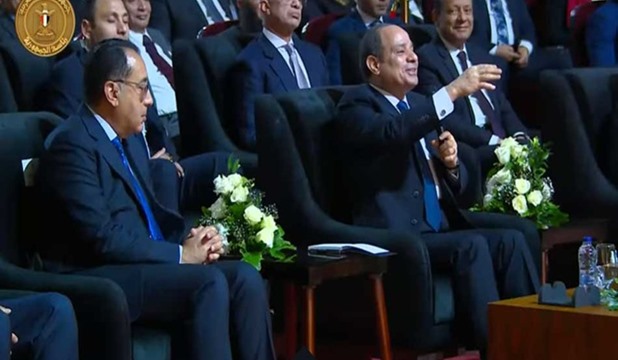 President Abdel Fattah El Sisi said Thursday 5/1/2023 that Egypt needs some 70 trillion pounds to be able to implement projects hoped to achieve its development.
Speaking during a ceremony to inaugurate a number of development ventures in the city of Sohag, Sisi told the gathering that Upper Egypt has never been marginalized or forgotten, underlining attempts to solve problems in an unorthodox way.
Prime Minister Moustafa Madbouli reviewed just a part of what had been accomplished outside the "Decent Life" initiative, Sisi made it clear. Excluding "Decent Life", the cost could reach a total of seven trillion pounds, the president said, believing it is a very modest sum given the dream Egypt is seeking to fulfill.
"This is our current reality, because the state is not and has not been capable," Sisi said, adding "with such unfavorable circumstances, the country could only dream, think and act."
Sisi put the total value of development achieved in Sohag so far at 102 billion pounds. He wondered about what upgrading the rest of the governorates would cost.
All that is being achieved now is an attempt to narrow the gap and reach normal rates of the development process, the president said.
He underscored the need to establish 60,000 classrooms annually to accommodate the growing population, noting that this would cost some 69 billion pounds.
Addressing a group of youth attending the ceremony, Sisi said: "your ideas and dreams could be the reason for changing the situation in the country."
The president also talked about financial support for projects of youth, adding that each of those ventures could cost between one and three million pounds to guarantee success.
He told the gathering that he follows up comments made on social networking sites that criticize road projects, stressing the importance of having an efficient road network to facilitate movement between governorates.