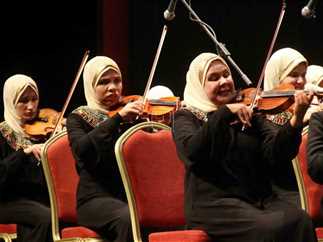 Their hearts have loved music since childhood. They have the determination to turn the impossible into possible, despite losing their sight. They faced many difficulties and obstacles, yet they were able to dazzle everyone with playing classical Western and Oriental music.
The Egyptian blind girls chamber orchestra al-Nour wal al-Amal (Light and Hope) played music in a ceremony on Wednesday on the occasion of Mother's Day, attended by President Abdel-Fattah al-Sisi, Prime Minister Sherif Ismail, and a number of ministers and senior state officials, prompting Sisi to thank them and give them a standing ovation after they finished performance.
The orchestra members played a number of Egyptian and international music tracks led by Maestro Mohamed Saad.
After they finished Sisi stood up to pay tribute to them. He thanked the orchestra members and their leader.
"You should sit down and we should stand up. You gave us a tremendous boost of satisfaction, joy and happiness. All greetings and pride to you," Sisi said.
"We are honored to have you today, and we are pleased with you. You are very beautiful, and this is a message to all of us that Egypt can. Long live Egypt at your hands," he said.
The al-Nour wal Amal orchestra was founded in 1961, when president of the Egyptian Academy of Arts and former dean of the Cairo Conservatoire Samha al-Khouly put forward the idea of ​​creating an orchestra of blind girls to learn classical music. The number of orchestra members currently exceeds 34. Girls read musical notes through the Braille writing system.
Al-Nour wal Amal performed in concerts in more than 28 countries around the world, including Germany, France, China, and many Arab and Asian countries.
They performed at the UNESCO headquarters in Paris, 2008, on the occasion of the 60th anniversary of the Universal Declaration of Human Rights.
They also performed in the town of Coupvray in eastern Paris, the birthplace of Louis Braille, inventor of the Braille writing system for the blind, on the occasion of the 200th anniversary of the birth of Braille.
On November 11, South Sinai governor Khaled Fouda honored the orchestra at the Hollywood Theater in Sharm el-Sheikh for performing symphonic concerts during the World Youth Forum and ordered the disbursement of LE30,000 to them as a reward.
Edited translation from Al-Masry Al-Youm