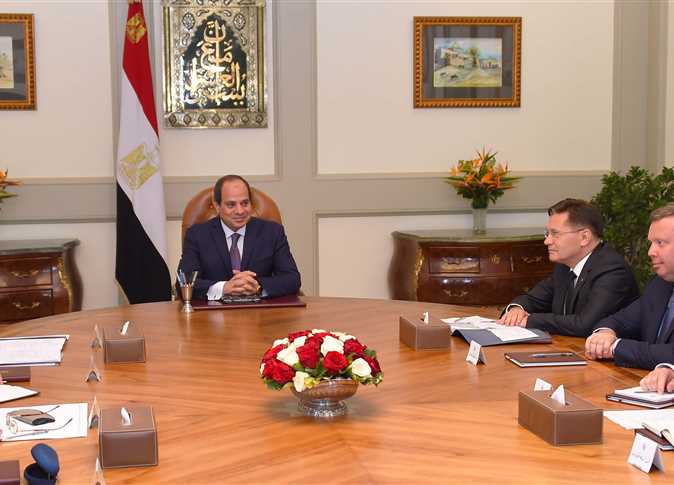 Egyptian president, Abdel Fattah al-Sisi, met Alexey Likhachev, director General of Rosatom State Atomic Energy Corporation on Sunday. Egypt's Electricity Minister, Mohamed Shaker and officials from Rosatom were also in attendance.
Spokesman for the presidency, Alaa Youssif, said that the president welcomed the Russian official, stressing Egypt's aspiration to cooperate with Rosatom in the establishment of the nuclear plant, that will generate electricity from Dabaa.
Sisi added that the project represents a new symbol of friendship and cooperation between Egypt and Russia, taking into account the great experience and reputation of the Russian institution in this field. Sisi stressed Egypt's keenness to start the project and finalize its contracts soon.
Likhachev expressed his appreciation for the cooperation on the project with the Egyptian side, stressing the importance attached by the Rosatom to implement the project, and indicated the aspiration of the Russian institution to start implementation as soon as possible.
The meeting reviewed the final position of the contracts for the implementation process of the plant.
Russia's Ambassador to Egypt Sergey Kirpichenko said in June that 99 percent of the contracts necessary to begin the plant project in Dabaa have been agreed on.
Moscow and Cairo signed an agreement in November 2015 for Russia to build a nuclear power plant in Egypt, with Russia extending a loan to Egypt to cover the cost of construction.
Russia's state-owned nuclear firm Rosatom said the plant, Egypt's first, would be built at Dabaa in the north of the country and is expected to be completed by 2022.
Russia will loan Egypt $25 billion to finance building and operating the nuclear power plant. Egypt will pay an interest rate of three percent annually. Installment payments will begin on October 15, 2029.