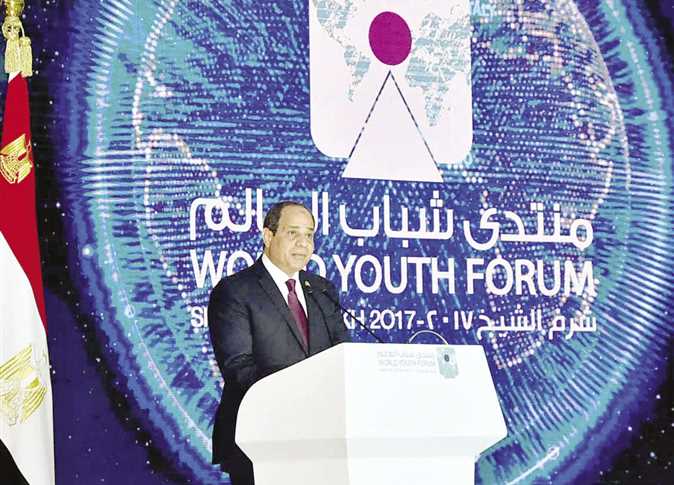 Egyptian President Abdel Fattah al-Sisi on Saturday will open the World Youth Forum for the second year in a row at the New Hall of the International Congress Center in Sharm al-Sheikh, in the presence of 6,000 young people from all over the world.
The Red Sea resort city of Sharm al-Sheikh was decorated to welcome the forum, with streets planted with roses and advanced lights illuminating all squares and exhibitions, established to coincide with the World Youth Arts Forum which preceded the World Youth Forum.
President Sisi's bicycle tour across Sharm al-Sheikh on Friday brought joy to the residents and tourists of the city.
Governor of South Sinai Khaled Fouda concluded check ups for the preparation and equipping of the Sharm al-Sheikh International Congress Center, which includes 10 sub-halls and a restaurant with capacity of 1,500 people.
The conference hall is equipped with international conference facilities, while the press center can accommodate hundreds of journalists and media staff, in addition to a big center for immediate translation into six different languages.
The City of Sharm al-Sheikh set up marble seats and umbrellas in the streets of the Ruwaisat area, to provide rest stops for pedestrians.
The president performed his Friday prayers at the Sahaba Mosque in Sharm al-Sheikh, accompanied by a large number of state officials and ministers.
On the sidelines of the forum, the three-day World Youth Theater is set to open as a youth forum for arts from different countries around the world, and serves as a creative arena where young people can showcase their talents, thoughts and cultures. This unique experience will be presented for the first time during the forum's events.
Edited translation from Al-Masry al-Youm