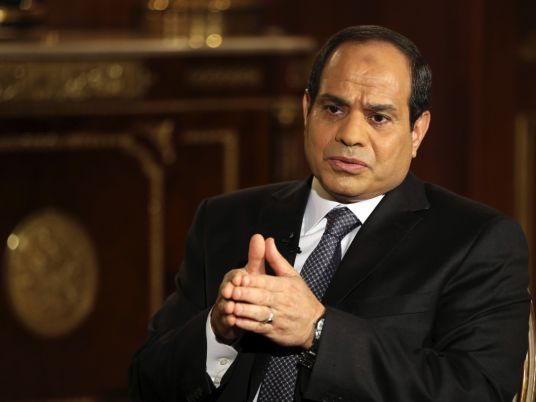 President Abdel Fattah al-Sisi will participate on Monday in the 28th Ordinary Session of the African Union in Addis Ababa, where 33 African government heads and presidents are expected.
Sisi will sign the anti-corruption convention.
AU Commissioner President and Vice President will be re-elected and the activities and committees of the union will be restructured during the summit.
The assembly will discuss the return of Morocco after a decades-long membership freeze, upon Morocco's request, that lasted for 33 years.
Ambassador Abu Bakr Hefny, Egypt's ambassador to Ethiopia, said that there will be a meeting Monday on the sidelines of the AU summit between Sisi and Haile Miriam Dessalines, Prime Minister of Ethiopia.
He added that relations between Ethiopia and Egypt since Sisi took power have improved, assuring that there are contacts at the highest level between the two countries with regard to the Renaissance Dam.
The negotiations respect both Egypt 's share in the Nile water and Ethiopia 's sovereignty over its land, said Hefny. He expects great improvement in relations with Ethiopia in the coming period.
Sisi will hold bilateral meetings at his residence with heads of Kenya and Congo to discuss means of enhancing Egypt's relations with the two countries, in addition to discussing African issues on the agenda of the summit, including the restructuring of the AU commission.
The restructuring comes due to the failure of the AU to address many issues as a result of depending on foreign partners and the very weak efficiency of many Union workers, according to Hefny.
In a related development, African leaders will discuss actions to improve the lives of the continent's young population, in addition to discussing the growth of the young segment of the population and how to ensure that this growing number would not pose a threat to national political stability.