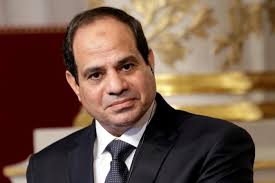 President Abdel Fattah al-Sisi has said efforts are being made to turn Egypt into a regional and international center to generate and export energy to Europe in general and Germany in particular, within visions to develop the economy.
In his speech at the joint Egyptian-German economic committee in Berlin on Monday, Sisi highlighted the recent natural gas excavations in the Mediterranean and north of the Delta, saying that Egypt will be exporting gas by 2020.
"Cairo seeks boosting cooperation with Germany in sustainable development fields like wind power and solar energy. [Our] government encourages investment in this sector," he said.
Sisi met with German Chancellor Angela Merkel in Berlin and discussed the illegal immigration issues, as well as economic cooperation and countering terrorism.
Merkel expressed her appreciation of efforts made by Egypt to fight terrorism and described cooperation between Cairo and Berlin as "excellent". She expressed her support of the ongoing economic reform in Egypt.
Meanwhile, Sisi praised the role played by Germany heading to the G20. He also welcomed the partnership with Africa.
The two leaders tackled the regional and international issues of joint interests, especially countering terrorism and the latest developments regarding ties with Qatar.
Sisi said Egypt is keen on establishing security and stability in the region, stressing the necessity of intensifying efforts to reach political solutions for the crises in Libya and Syria. In addition, he called for facing firmly the nations that are known to finance terrorism.
Edited translation from Al-Masry Al-Youm