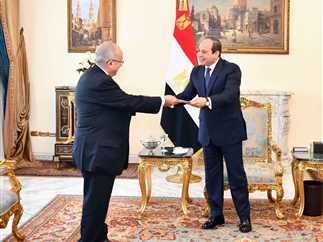 President Abdel Fattah al-Sisi on Monday received Algerian Foreign Minister Ramtane Lamamra in the presence of Foreign Minister Sameh Shoukry.
Sisi welcomed the Algerian Foreign Minister and convey his greetings to President Abdelmadjid Tebboune, the official spokesperson for the Egyptian Presidency Bassam Rady said.
Sisi also expressed Egypt's keenness to push forward bilateral cooperation through activating joint committees in order to launch bilateral relations to broader horizons, reflecting the strong bonds uniting the two countries.
Lamamra handed Sisi a written message from Algerian President Tebboune.
In it, Teboune put forward Algeria's pride in its close and distinguished relations with Egypt, and his desire in strengthening bilateral cooperation in all fields alongside consulting with Sisi to face all multi-faceted challenges facing the region and the Arab world at large, while supporting joint Arab action.
The meeting also discussed ways to enhance prospects for bilateral relations, which included holding the next session of the Egypt-Algeria Joint Higher Committee between prime ministers during 2022, as well as holding a political consultation session with both foreign ministers.
Sisi and Lamamra talked on the latest developments in Libya. 
They agreed on the importance of working to achieve security and stability, preserve the unity and sovereignty of Libya, and unify its national institutions, especially those related to the military and security, in order to enhance international efforts to end the presence of foreign forces and mercenaries on Libyan territory.
For Tunisia, the two sides affirmed continued Arab support for President Kais Saied's measures and strenuous efforts to achieve stability in the country.