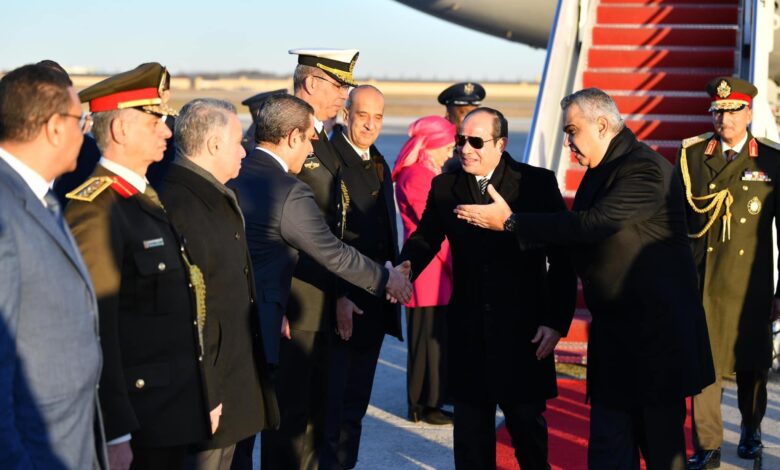 On Thursday, President Abdel Fattah al-Sisi received, at his residence in Washington, with Republican and Democratic members of an "Egypt's Friends" group in the Congress.
The meeting discussed the decades-old strategy of relations between Egypt and the US.
Egypt's keenness to strengthen these relations in all its aspects, within a framework of mutual respect and common interest, especially in light of the turbulent regional situation and escalating challenges, on top of which is the growing threat of terrorism.
The repercussions of which have affected many countries, official spokesperson for the Presidency Bassam Rady said.
Successive global crises, on top of which is the coronavirus pandemic and the Russian-Ukrainian war had negative repercussions on the economy, energy and food security which requires solidarity to confront these repercussions, he added.
The US Congress members appreciated the depth of joint cooperation between the two friendly countries, stressing the great importance that the US attaches to relations with Egypt, taking into account that Egypt is a pillar of security and stability in the Middle East and the Arab world, in addition to being a pivotal partner for the US in the region.
They also expressed deep appreciation for Egypt's successful and effective role under Sisi in combating terrorism and extremist ideology, reforming religious discourse, and establishing the values of freedom of belief, tolerance, and acceptance of the other.
Rady added that the meeting discussed means to enhance bilateral relations in a number of fields, and discussed the current developments on the regional and international arenas.
Especially with regard to the developments of the Palestinian cause, as members of Congress praised the Egyptian efforts in backing the peace process.
Sisi affirmed Egypt's position aiming to reach a just and comprehensive solution that guarantees the rights of the Palestinian people in accordance to international references, which opens horizons for peaceful coexistence and cooperation among all the peoples of the region.