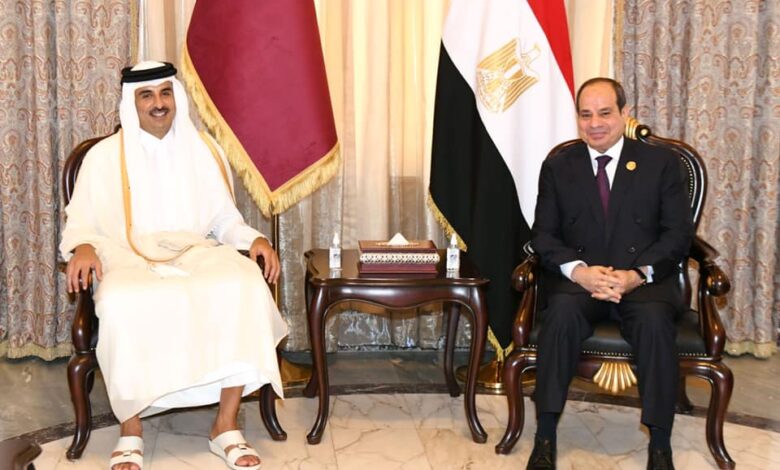 President Abdel Fattah al-Sisi received on Tuesday, Sheikh Mohammed bin Abdulrahman Al-Thani, Qatar Foreign Minister.
The meeting was attended by foreign minister Sameh Shoukry, and Head of General Intelligence Abbas Kamel, along with Qatar Finance Minister Ali bin Ahmed Al-Kuri, and head of the Qatari State Security Service Abdullah Al-Khulaifi,  and Qatari ambassador to Cairo Salem bin Mubarak Al Shafi.
Sisi welcomed the visit of the Qatari Foreign Minister to Cairo, requesting to convey his greetings to his brother Sheikh Tamim bin Hamad Al Thani, Emir of the State of Qatar, Bassam Rady, official spokesman for the Presidency, said.
Sisi praised the tangible progress in the course of Egyptian-Qatari relations, which would serve the goals of interests of the two states and two peoples, and enhance efforts to maintain security and stability in the Arab region.
Sheikh Mohammed bin Abdulrahman Al Thani expressed his honor to meet Sisi.
He also conveyed to him the greetings of Emir Tamim bin Hamad Al Thani, and his keenness to consolidate the close brotherly relations between the two countries in a way that enhances security and stability in the region.
He expressed appreciation for the President's efforts to advance joint Arab action and maintain peace and security in the current critical stage in which challenges are escalating.
Rady explained that the meeting discussed ways to strengthen bilateral relations at various levels, and the latest developments in the regional situation and issues of common interest.
Sisi stressed in this regard the link between Gulf security and Egyptian national security, praising the important role played by the State of Qatar in facing challenges.
Abdulrahman Al Thani, meanwhile, praised Egypt's pivotal role in the region as a mainstay for the security and stability of the Arab world.